The Fall is a good time to visit a lot of places, the changing of the seasons as the leaves turn to red, yellow and golden brown. The weather now cooler with thoughts of Halloween pending and the Harvest moon knowing this is the last sigh before the start of Winter.
There are so many places of wonder and beauty in the Golden State of California and this is why we here in this amazing state have been a travel destination the world over.
The Central part of California is known as the breadbasket of the state but the Eastern part of central California is home to one of the most beautiful and spectacular national parks in the US, (Yosemite)
Yosemite sits in the vast Mariposa county which was one of the first counties to be formed in 1850.
There was a lot of gold and other mining in the southern part of this county during the great California Gold Rush and you can find the old remains and small western towns of this time period all over Mariposa County.
With this in mind my Friend Pat and I decided to take a little trip and visit our good friends Eric and Donna Carr up in Mariposa.
Eric and Donna have a lovely ranch that they call D&E Digs, with a nice guest cottage that they rent out to anyone who would like to stay in that area of low lying mountains and forest. Also the Great Yosemite Valley is only about a thirty five minute drive from there, and that drive is quite nice to take.
It was a perfect base for Pat and I this Fall weekend, and if any of you ever decide to visit this area it's a great place to stay and feel free to bring your pets.
We started on or journey leaving LA mid day and taking the long boring ride through the middle of our state...... Till you get past Fresno pretty much the scenery consists flat dusty farming and agricultural landscapes.
This ride takes about four hours and as soon as you start climbing into the mountains it's funny how your whole mood starts getting lighter as you pass the big oak tress seemingly everywhere mixing with the pines that will be more in abundance as you climb to higher elevation
.
The first place we stopped at was this old joint called the cigarette shack (Pat needed some smokes)
and something to drink for later that evening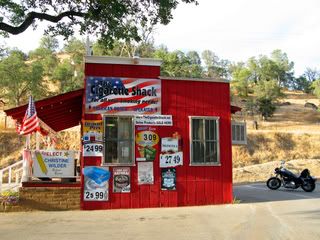 Arriving at Eric's place we unloaded our bikes and fixed ourselves a drink while we waited for Eric to come home from doing some backhoe work next door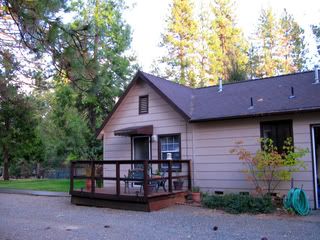 Eric has been telling me for a while now about this great restaurant in Mariposa called Savoury's and we all decided to have dinner there that evening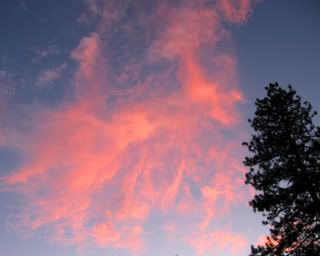 This amazing restaurant is owned and run by Mirriam and her husband Jim Platto
.
If there was ever a place you could call the best restaurant in town this was certainly it! Amazing food and service all under the stars on the patio, they are in the process of remodeling a new place that will accommodate more patrons because they have out grown their current building (always a line in the evenings) Check it out if your ever in Mariposa, Savoury's is pictured here right next door to the old Mariposa Hotel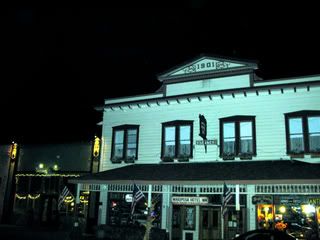 The next morning we got up and met up with Eric's friend Jim, he was going to guide us through some roads that we had never traveled on in that area. Our first destination was Yosemite
This national treasure is always beautiful but especially so in the Fall, we did a quick lap around the west end of the park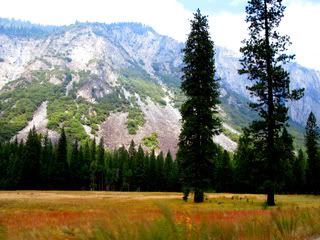 One of the large rock faces that climbers like to scale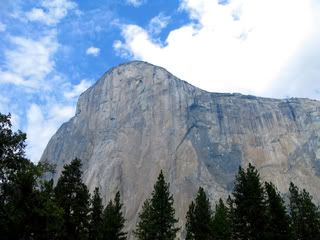 A lovely serene green pool of water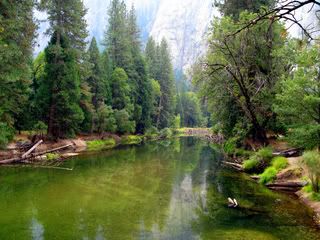 Moving on out of the park heading west on highway 120 we rode by some of the Fall forest colors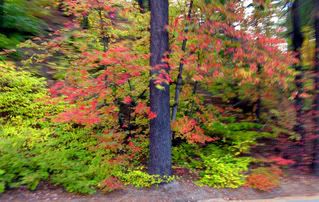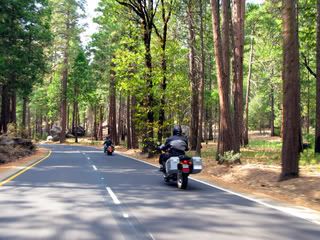 Entering Groveland which started out as a wild mining town in the mid 1850's,
here is the Iron Door saloon built in 1852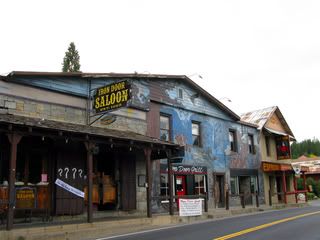 I saw this little fellow waiting for his owner outside of the saloon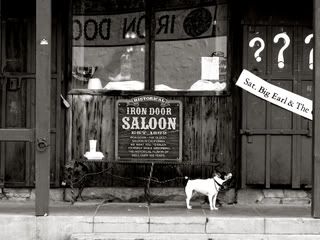 Moving on I walked around the town to take a few pictures around Groveland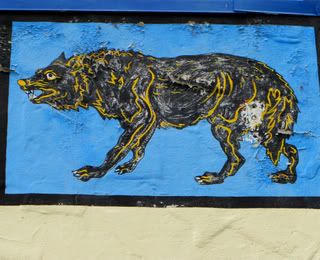 An old weathered barn door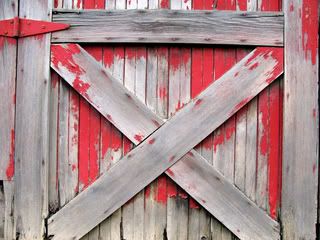 The changing of the leaves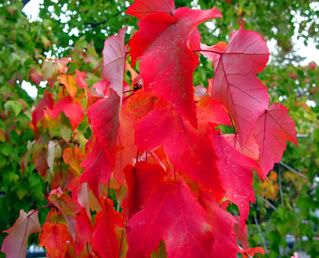 A pretty collection of flowers
I came back and had a beer with the boys and checked out this old west saloon
(That's all money stuck on the ceiling)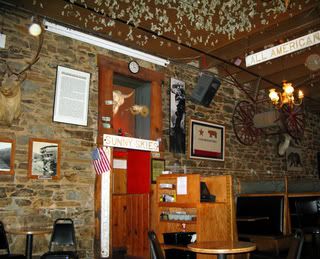 As we left and continued onward I noticed some really old buildings that I had seen some years earlier while riding down the same road, this time we stopped to take some pictures in front of the old Independent Order of Odd Fellows Building
They we're one of the masonic fraternal orders started in 1819....... this particular building was built in 1853 and Pat and I found it to be a great backdrop for some pic's with our bikes

Pat and his BMW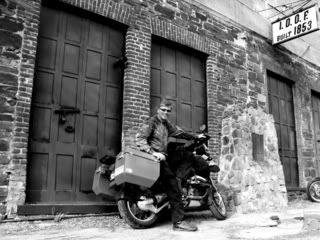 Me and my Harley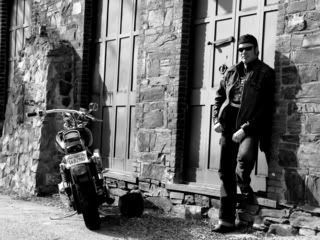 The lock and door handle to the place
Up the street was some more interesting places to take some pictures of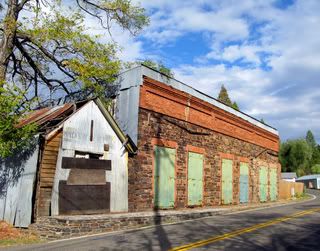 Old abandoned home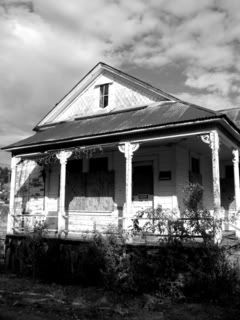 The beauty of foliage on a wall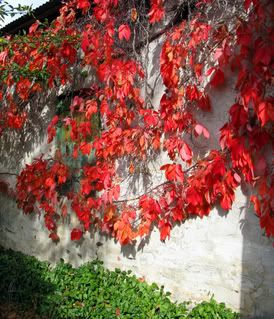 Or and old doorway from long ago.......
Continuing onward to our next destination "Coulterville"
Jim took us down a lonely back country road, the type that as a rider you savor every mile as you take in the things and places you pass along the way
Like this 1930's truck for instance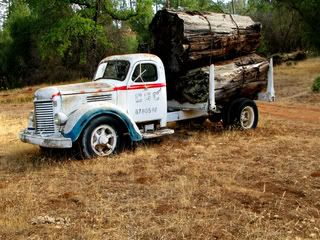 Or the weathered side and boarded up window of this old barn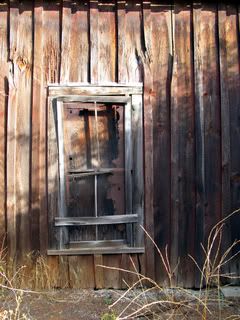 Sometimes it's something amusing that catches your eye...........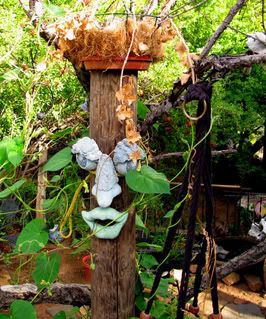 Well soon enough we rode into Coulterville, Pat and Jim continued on to the Jeffery Hotel while I spied a street called Cemetery and made a quick hard right............. those of you who have read my other blogs know I don't pass up a stone garden and especially one from the old Pioneer days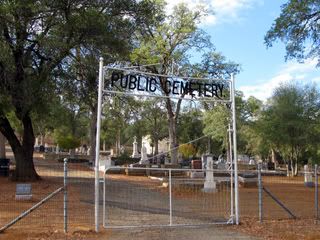 I took some images of this quiet and lonely place, many of the names and dates now fading away on the marble and stone markers...........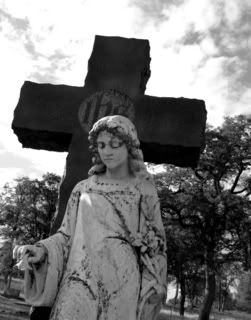 The rusting wrought iron work around this grave tells you that someone had some special care here at one time
Bidding adieu to the old boot hill I hopped back on my scooter to meet Pat and Jim for lunch at a real Haunted Hotel
The Hotel Jeffery was established in 1851 and is run now by it's current proprietors
Peter & Cherylann Shimmelfennig

This hotel has a rich history of the old west and also the oldest running saloon in California
called the Magnolia Saloon
You can get a great meal or a drink here and if you stay the night you'll have a good chance of seeing something paranormal, and that has been well documented I learned as we all had lunch with Peter who told us all about the place and it's ghosts and hauntings.
Having finished lunch I decided to walk around Coulterville some more and take a few photographs

A long view down Main Street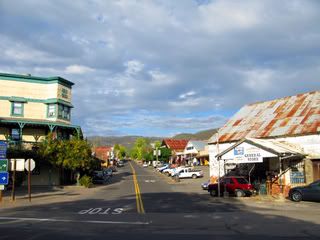 A wood building from 1850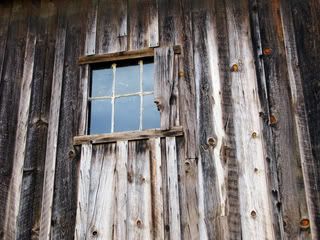 Wagon Wheels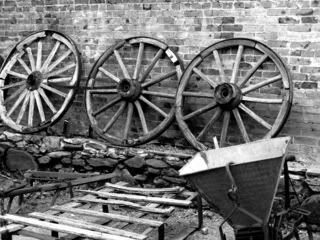 Flowers that say "hey look at me"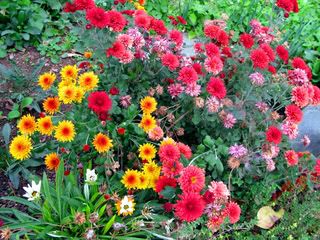 The type of rustic images you would find in an old western town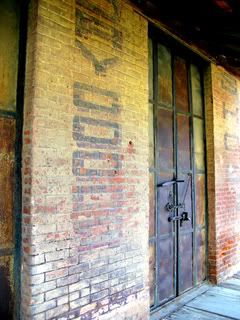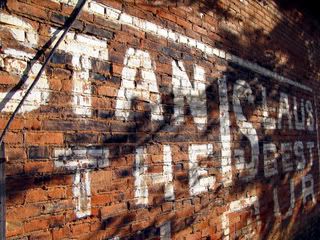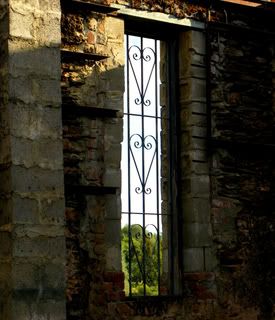 We all got back on our bikes and continued on our ride back to Mariposa,
stopping along the way to check out this old stone building and a cafe long sense closed for business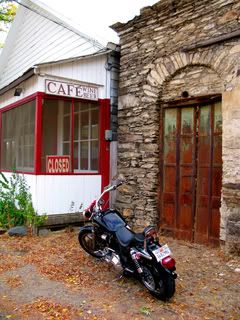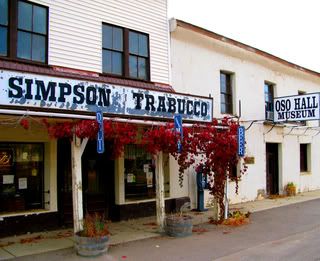 I like the look of a weathered doorway....... or an entryway that speaks of nostalgia or abandonment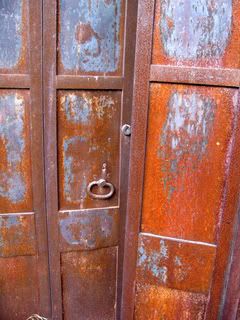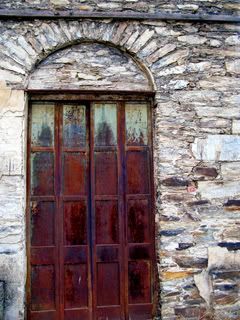 As the sun started to set I snapped this pic of Pat as we rode along the large oak trees and golden brown rolling hills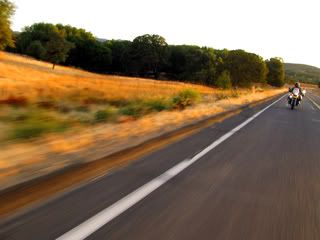 Saw this old Frost shop sign in Mariposa........minus the Frost shop
Saying our good bye's to Jim we moved on to our base at D&E digs.
I never grow tired of seeing a gorgeous sunset in the western skyline, this one was no exception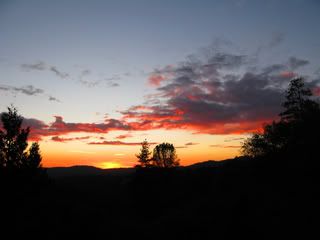 We'll we couldn't get enough of a good thing so all of us had dinner again at Savoury's joined by Jim and Mirriam, having another fine meal and some great wines provided by Eric and Donna...........

It was a perfect ending to this day.

Rising the next morning Pat and I packed our things said our good bye's to Eric and Donna and headed back to LA, of course I had to stop to take one last picture of this old barn that was down the street from where we stayed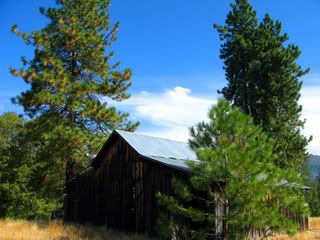 Another great trip..................
another answered call to the open road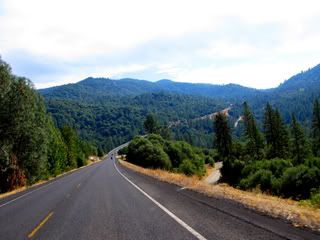 ~M