Every year as Summer draws to a close and the beginning of Autumn starts to happen the LA County Fair has it's run in Pomona at Fairplex, the fair has a multitude of rides and carnival attractions run by the
Ray Cammack Shows Carnival
along with live horse and mule racing and of course the menagerie of farm animals and various other exhibits.
I always like to at least make it to the fair every year and when my horse business partner Randy Cano who I buy and sell horses with was running one of his racehorses it seemed like a perfect time to see all the sights and sounds of LA's annual fair.
Randy his partner Ben, ex-wife Debbie, daughter Tiffany and I all hopped into the truck and headed to Pomona.
The first stop was the backside of the racetrack to see the horses and the filly Skims Chime who Randy was running later that day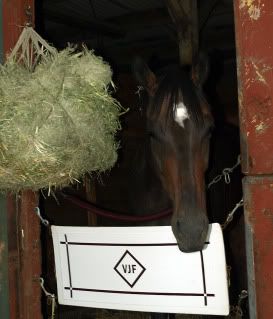 After saying hello to the horses in the stable area we all headed over to the grandstand with high hopes for Skims Chime and a good day at the racetrack
The first race on the card was for the mules which are always a trip to watch as they sprint down the track with the jockeys usually yelling like wild Indians when they leave the gate because.......well, they can be rather stubborn and ornery
Here's a pic of a racing mule with blinkers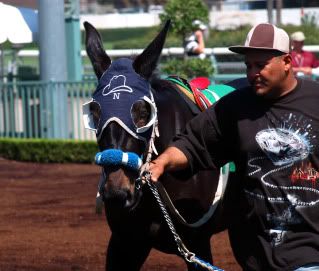 Well It wasn't too long before Skims Chime's race was set to start so we all headed down to the paddock area to see her saddled up.
Skims Chime is a really pretty filly with a big heart and a very quick turn of foot
And here she is in the paddock all saddled and ready to race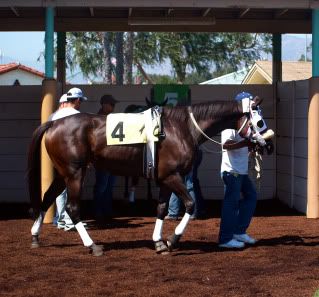 The morning line on her was 9 to 1 and she was now double that at 18 to 1 on the tote board so it seemed like a really nice overlay and a pretty good spot to make a nice wager, I put twenty across the board and made a little dollar trifecta bet and if she hit the board I would do alright
As the announcer said "and away they go" she jumped out the gate and was just off the pace of the race leaders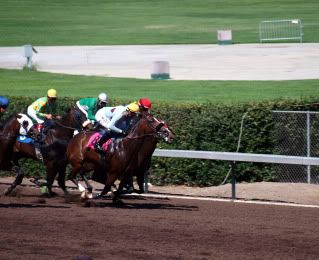 As she and one other filly battled for the lead down the stretch and as the two horses approached the wire she weakened a bit and was finally beat the last couple of strides and ended up running second for the race which all things considered was really a great effort on her part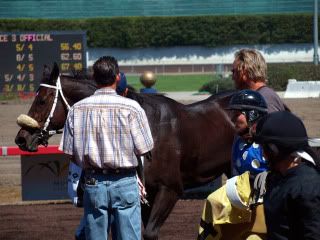 Here she is with Vod Farris the trainer and Randy Cano the happy owner
and even though she didn't win I managed quite well on my bets netting $690 for the race so I was quite happy too....... On a side note she did go on to win her next race start on the first day of racing at the Fresno fair.......... A really good filly indeed !!
Randy and the rest of the crew wanted to stay and play some more races, and I decided not to give my winnings back to the track so I headed off to the fair to see some of the rides and exhibits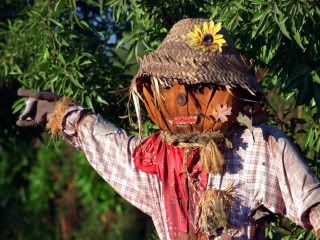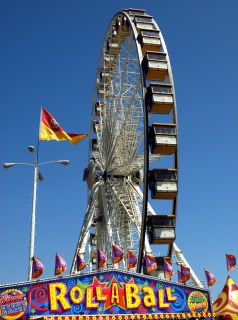 There is something about a carnival that triggers some great memories of when we were kids, sights and sounds along with the myriad of colors of the various rides and booths give a sense of mystery as excitement abounds.
Carny barkers announce the fun that can be had for only a few tickets and all you have to do is step right up, go inside, play that game or take a ride
It's in those moments that you can re-connect with the times in your life when the thrill of a carnival experience was memorable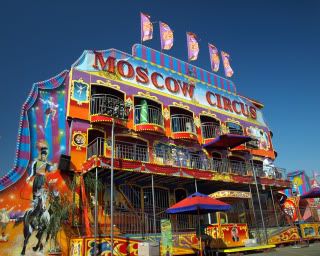 More than anything I was just happy walking around taking pictures of the things I found of interest and one of the things I quite liked was some of the artwork found on the rides
Like this scene for the Mardi Gras ride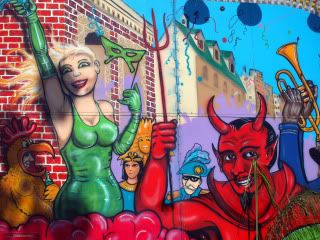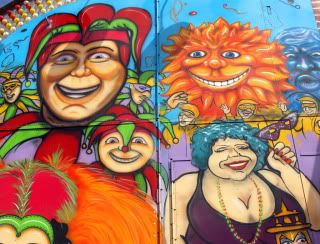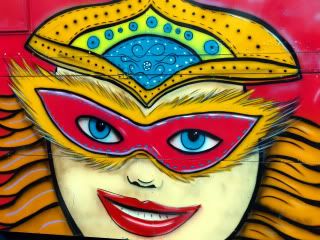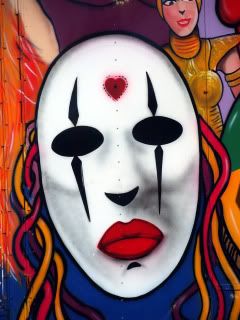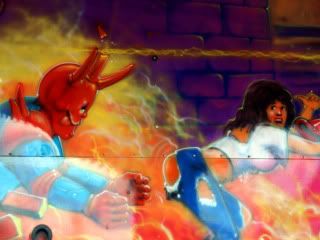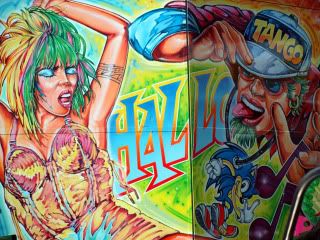 Or this honey bee that seemed inviting for some small kids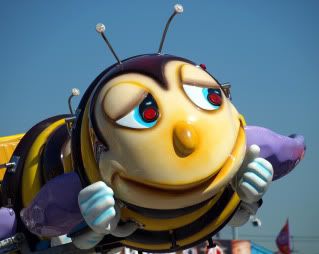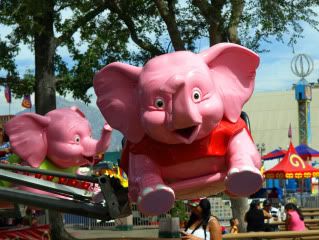 There were quite a few tents with various games where you could win a prize if you were a lucky winner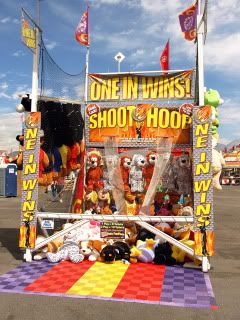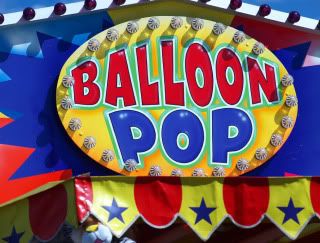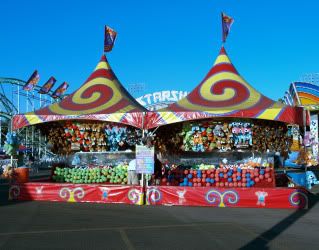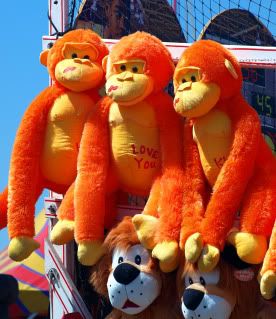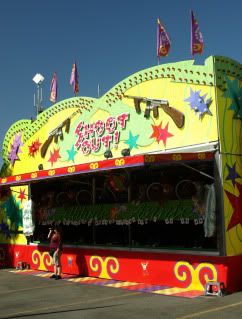 And of course what kind of fair would it be if there wasn't an array of odd and quite fattening foods to eat, you surely wouldn't be disappointed here, I mean how wrong can it be having chocolate covered bacon and deep fried twinkies.......lol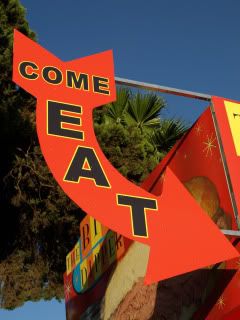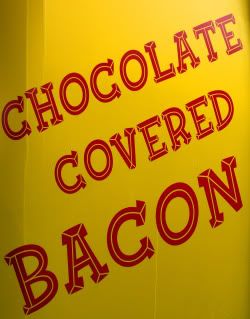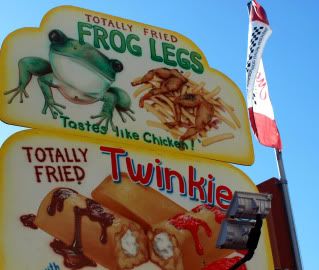 maybe a big Rosie O Donnell hot dog with lots of chili, sour kraut and onions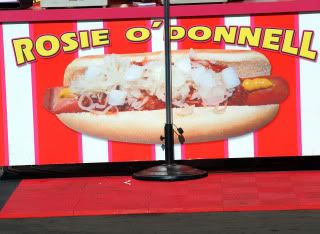 Or how about a Krispy Kreme donut chicken sandwich with raspberry sauce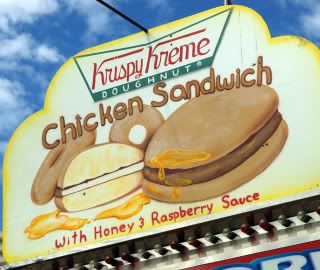 Or a nice big zucchini weenie......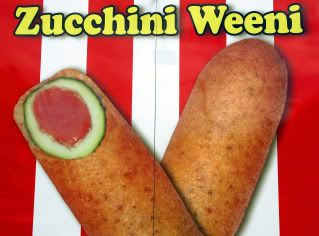 of course one might opt for a giant slice of pizza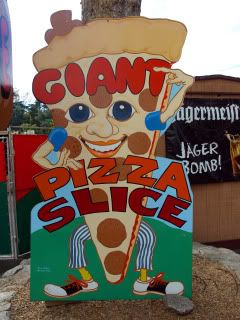 But you could always feel like royalty eating at King Taco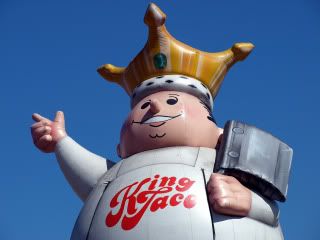 And yes for those purists a nice corn on the cob at the Corn Shack might do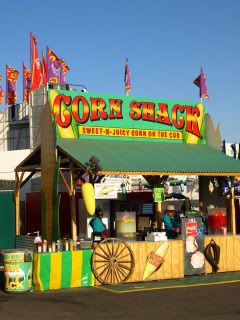 Or maybe order a Hot Dog on a Stick from these two lovely girls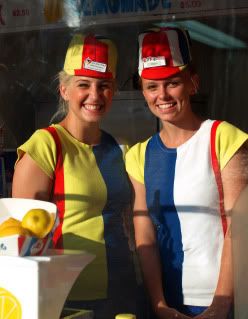 But I decided to do the wise thing and ordered a falafel at the Greek stand with some fresh lemonade to drink......and it was quite good ;-)
Catching up with everyone we strolled around taking a look at the livestock and I even caught a pic of my friends as Texas Longhorns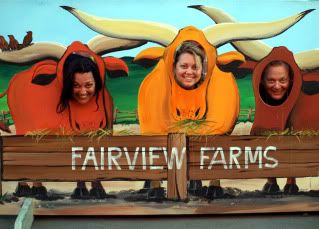 With all the rides, games and exhibits the other thing you'll find are the various animals Like the Giant White mountain Steer, and let me tell you they were not kidding this photo here does not do justice to how large this animal really is, it was enormous!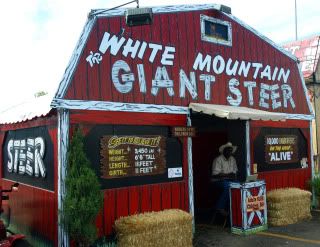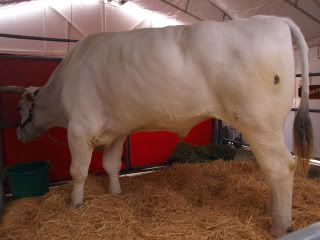 I saw the Giant snakes trailer but it seemed not to many folks wanted to have a look in there ........not even for a buck....lol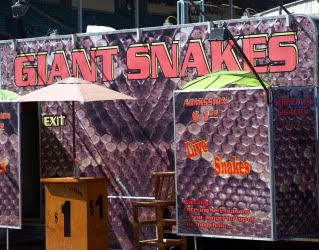 Funny it seemed to be the same way for the fortune teller too.....
Besides the rides and food concessions there were quite a few exhibits, I decided to go and check out the historic trains at the Fairplex Garden Railroad and they certainly had some amazing vintage trains to view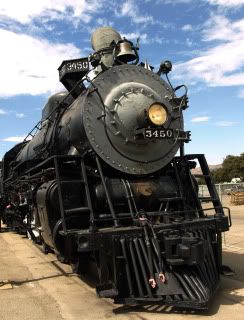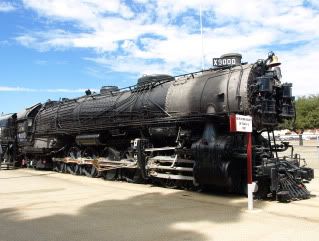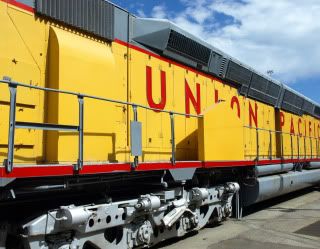 Moving on I found a few classic vehicles and hot rod's at the NHRA museum
Like this great old 1932 Gilmore Gas Truck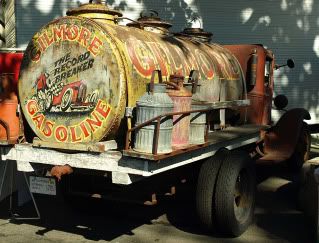 Or this cool looking rat rod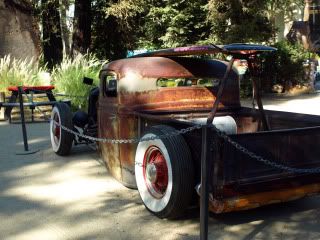 It was about this time that I heard a marching band and realized a parade was forming down the main walkway so of course I strolled over to catch the participants going by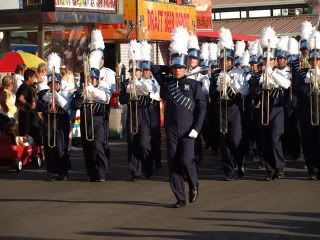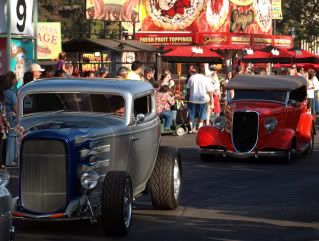 One of the crowds favorite's and mine were The Budweiser Clydesdale's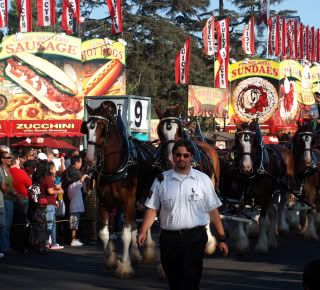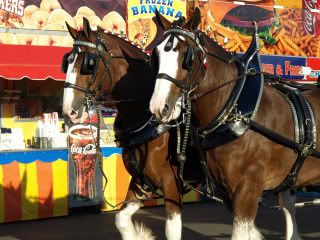 Next came a thumping disco band on a trailer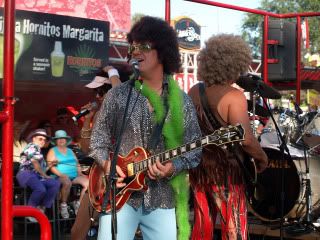 Then a float with Jack Sparrow doing his thing for the crowd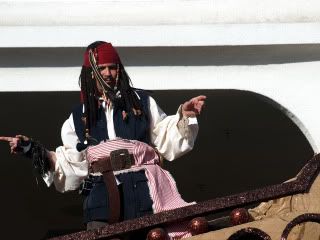 After the parade passed I decided to walk around and take a few more pic's of some of the rides
This old fashioned Merry Go Round was pretty cool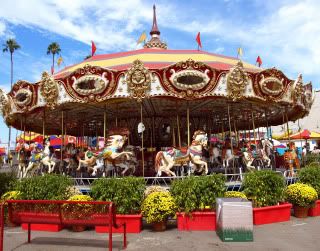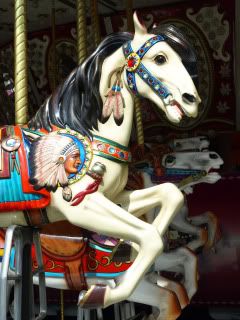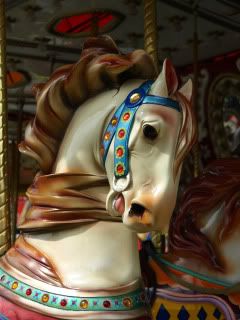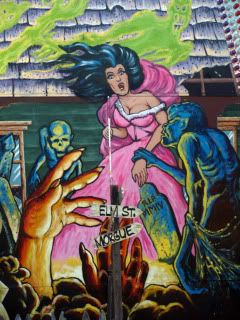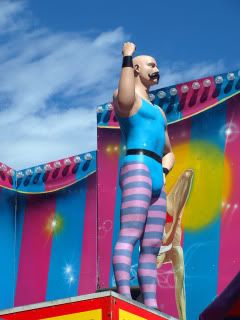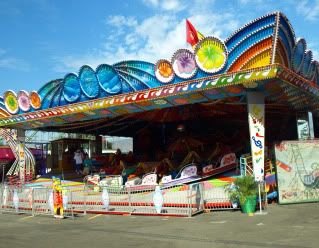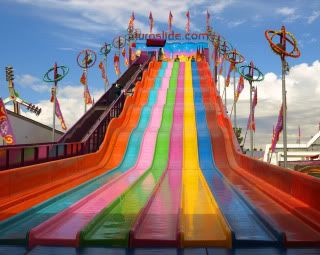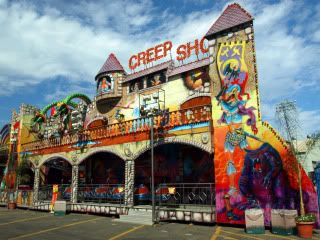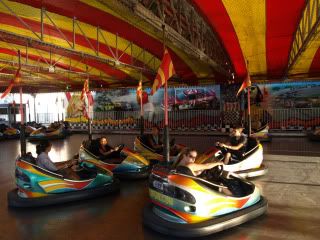 As the late afternoon settled into dusk and early evening the lights came on and the carnival really started to sparkle, It's this mixture of colors and lighting that make the fair quite magical and it was a pleasure to capture a few images in the fading light of the sunset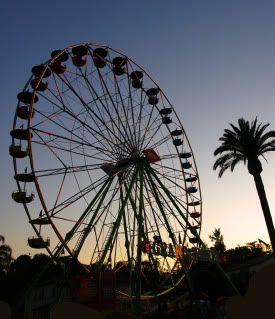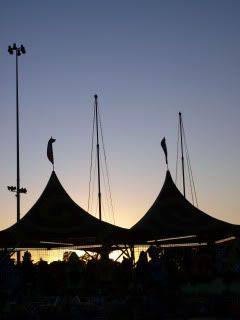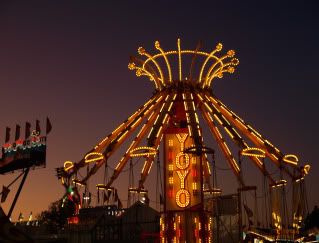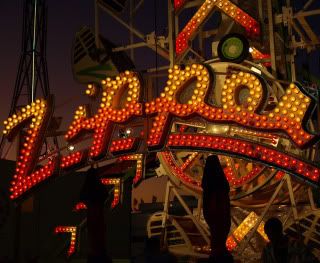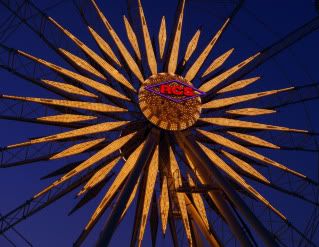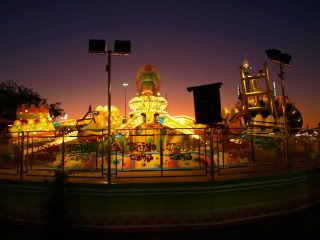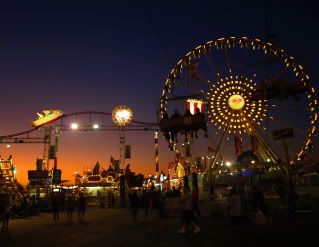 All in all it was a wonderful day from start to finish, the type of day where you packed as much fun as you could, finally happy to be back on the road headed towards home where you could find the comfort of your own bed and replay in your dreams a day at the fair
~M