Unlike the previous weekend today it's pissing down rain and as stormy as LA can get so it seems like a good time to sit here at the computer and write a bit about the few days I spent last weekend out and about in the desert.
A few of my friends from LA have re-located to various parts of the Coachella and Yucca valley's which are sections of the greater Mojave desert.
Seeing how I hadn't been out there in a while and the weather was perfect for a little bike trip. I called my friend Pat and said I wouldn't mind riding out and do a little photography so he got a hold of our mutual friend Bernie who has a great place in Pipes Canyon near Pioneertown and asked if it would be alright for us to drop by, Bernie said he'd be happy to have us come by and hang out.
So that was all the green light I needed to pack up the Harley Friday morning and head eastbound towards Palm Springs.
I decided to meet Pat at his place in Cathedral City park the bike and then from there we'd go cruse around Desert Hot Springs where I wanted to take a few pictures of some old neon signs...... then from there we'd head over to Bernie's place for the rest of the afternoon and evening.
Desert Hot Springs is at the opposite side of the valley from where Palm Springs lies and is located in the foothills of the Little San Bernardino Mountain range.
The first place we stopped at was the home of the first homesteader in the area "Cabot Yerxa" and the home he built is know known as the
Cabot's Pueblo Museum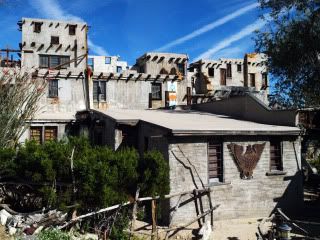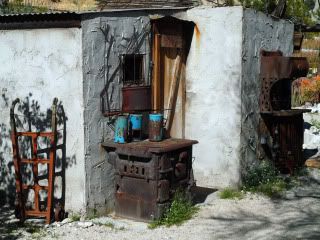 Cabot Yerxa who came to this area in 1913 made his 160 acre homestead on what is now known as Miracle Hill, on this hill he discovered two natural springs one hot and one cold and this unique phenomena was due to the San Andreas Fault bisecting the hill.
Cabot started building his pueblo at the age of 57 and kept working on it over the next twenty four years till his death at age 81, the amazing thing is that he built the large four story Hopi-style pueblo complete with 35 rooms, 150 windows and 65 doors almost single handed mostly using materials he reclaimed from all over the desert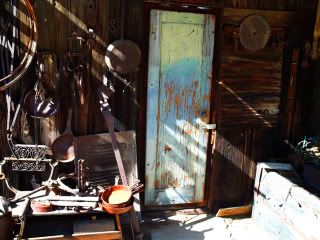 The museum now holds all kinds of art and artifacts and the other thing that you can't miss is the 40ft tall hand carved wooden Indian that was Created by artist Peter "Wolf" Toth called "Waokiye" meaning traditional helper and the sculpture was completed in 1978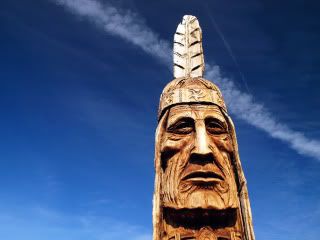 After leaving the museum Pat and I found some of the active and inactive small boutique hotels and spas that had their height of popularity as a tourist destination in the 1950's ......... all of these spas are a direct result of the natural hot spring discovered by Cabot Yerxa
Many of these places are run down or closed but a few of them
are still doing a nice business.
It's a long way though from the glory days of the 50's and early
60's because much of the growth in the Coachella Valley ended
up being in the Palm Springs area..........
Here are a few images of some of the old hotel spa signs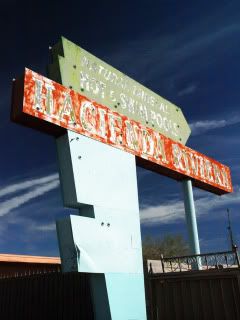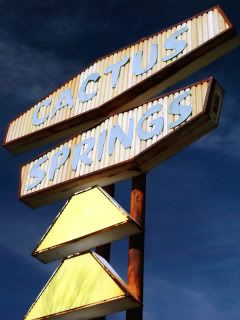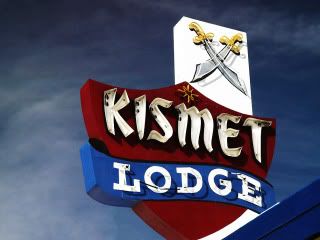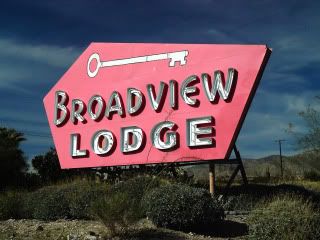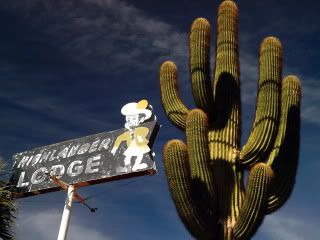 It was time to head over to Bernie's desert Shangri La in Pipes canyon,
The great thing about Bernie's place besides the topography
(it's a lot like Joshua Tree) he has a couple of vintage 1950's trailers
on the property that he's restored so Pat had one
and I had the other to spend the night in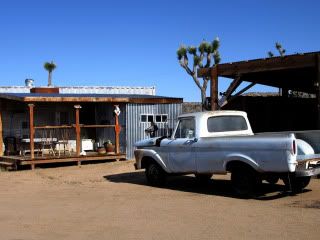 Bernie built a nice little covered deck for this one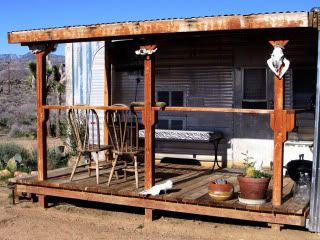 And here is my cowboy palace .......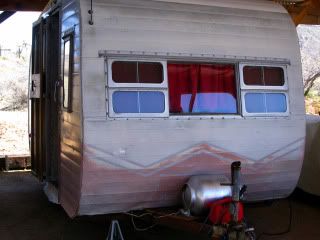 After getting settled in our trailers we cracked open the big bottle of Jim Beam and had some drinks with Bernie and his sister Lynn who was also visiting from LA.
Nothing like a nice cool libation sitting on the porch with good friends having a pleasant time conversing while waiting for the sun to go down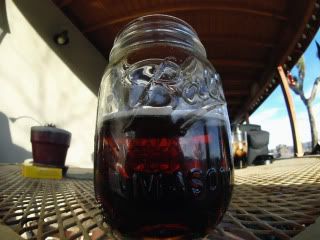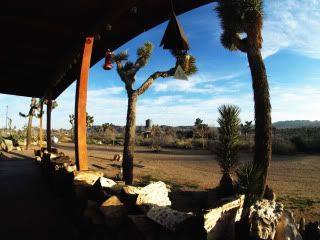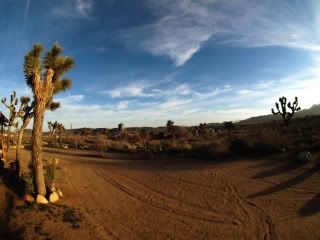 I always love watching the last phase of daylight and the desert sunsets at dusk
and true to form this evenings color display was no disappointment
So now it was time to get ready to go over to Pappy and Harriet's Pioneertown Palace for a good dinner and some live music.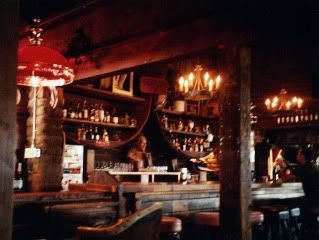 Pioneertown is an old western movie town set from the 1940's,
along with a old motel and a bowling alley the hub of the wheel
as they say is Pappy and Harriet's Pioneertown Palace
Years ago after the filming died off this bar was a pretty notorious
biker joint in the 1970's called the "Cantina"
and in the early 80's the place became what it's known as today,
a great bar and restaurant providing top caliber live entertainment
This evening we enjoyed a superb Mesquite BBQ steak dinner along with a cool old band in from San Diego
formerly the "Beat Farmers" the band just shorted their name
to the "Farmers" after the passing of one of the original members
I've always had a great time at this place and that night was no exception ;-)
After Pappy & Harriett's we back to Bernie's where he pulled out the bottle of Jagermeister just to make sure everyone would wake up with a hangover the next morning..........
Getting up slowly the next morning the original plan was to drive the 17 miles or so along the back roads to Big Bear to have breakfast but the idea of four wheeling a bumpy back road with the way everyone was fairing didn't seem like a good idea so we opted for a local diner and a drive around Landers to some historic landmarks.
The first place we stopped at was the "Integratron"
The Integratron is a geometrical dome-shaped structure built by by George Van Tassel
Van Tassel is an interesting desert character, Meditating beside Giant Rock in 1951
(which I'll talk about later) Van Tassel claimed to have been transported astrally to a huge alien space ship.
In 1952 Van Tassel reported he had been visited in the flesh by human-appearing, friendly space aliens from Venus, who suggested that he attempt to build a structure aimed at extending human life and so in 1954 he began construction on the Integratron
Not to far from the Integratron is "Giant Rock" where Van Tassel claimed to have his vision and contact with the aliens and so he hosted The Giant Rock Spacecraft Convention which was annually held beside the Rock
From 1953 to 1978 Van Tassel held these conventions which had their peak in the late 1950's with as many as 10,000 people in attendance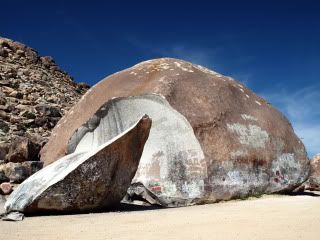 Giant Rock is a seven story free standing boulder and the
piece you see broken off happened in an earthquake a few years back,
it now reveals the white granite interior of the giant boulder
Here's a shot from another angle to give you a perspective of it's size
Another interesting footnote to Giant Rock is that an old prospector
named Frank Critzer lived underneath the rock during the 1930s
and early 40s where he had dug out and built himself a large room
While being investigated by by local police in 1942 he decided
to blow himself up with dynamite up rather than be taken in by the cops
needless to say there isn't much left of his room under that rock
but it sure makes for good local folklore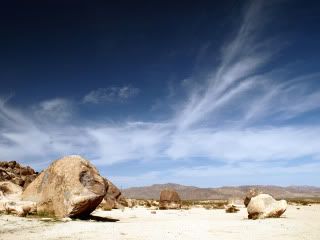 For any of you interested in visiting the
Integratron
they are open for tours and what they call "Sound Baths"
After checking out Giant Rock we headed back towards the Integatron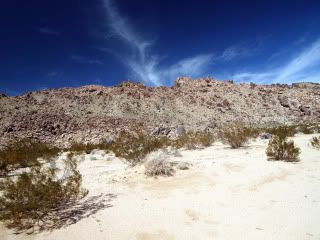 Now just up the street from the Integratron is the other great Landers place of interest
Gubler Orchids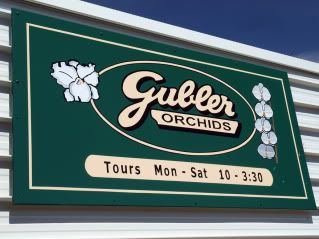 Gubler Orchids was started in 1956 by Hans and his wife Esther in Altandena CA
where they sold flowers out of the back of their station wagon
Over the ensuing years the orchid business kept growing at every location they were
at so by 1975 they decided to move their greenhouse operation to the Landers location
And wouldn't you know the desert climate is a perfect place to grow these amazing flowers
The folks there are really friendly and are happy to take you on
a tour of the greenhouse and explain all about the many beautiful
types of orchids they grow at the facility.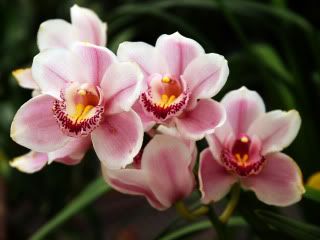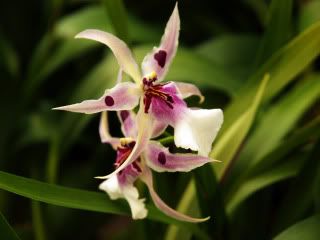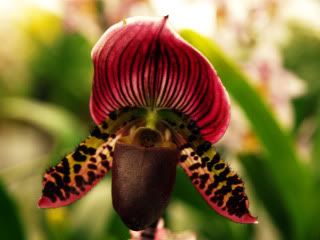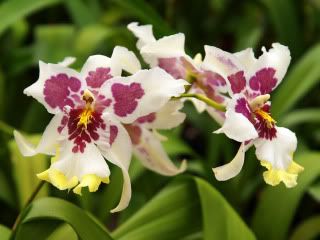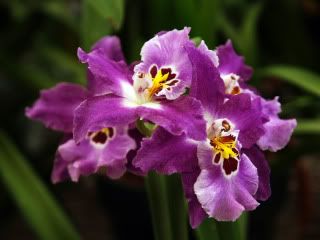 The other cool thing that I noticed at the facility was this unique
windmill that was turning quite rapidly in the desert wind providing
clean electric power to the greenhouses
After all that it seemed like everyone's bumpers were dragging a bit so we headed back to Bernie's, Pat and I packed up our things thanked our gracious host and headed back to Pat's place.
I wanted to stop and take a few pic's of the old film set at Pioneertown so Pat and I stopped there for a bit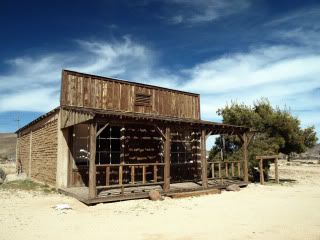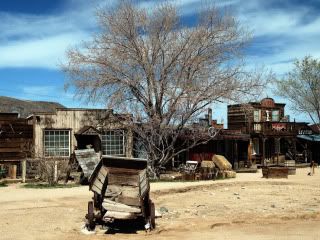 Here's the old barn sound stage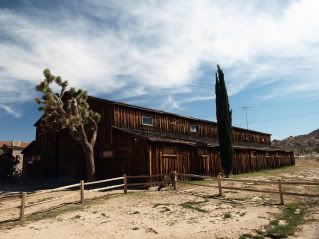 Bank and Hotel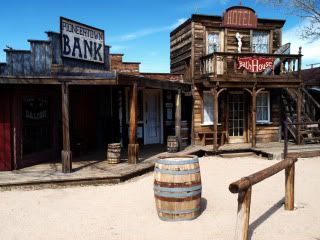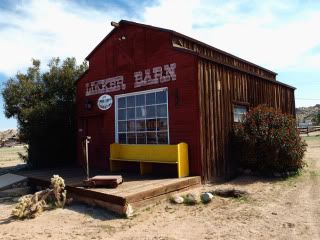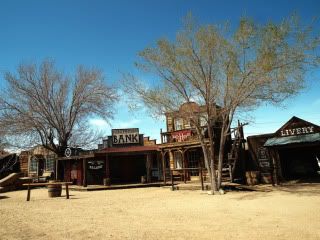 And another cool thing that's there is the Pioneertown Bowl
originally built by Roy Rogers and Gene Autry this small six lane
bowling alley is only open on the weekends and then only for certain months
out of the year But for a real throw back in time this saloon and bowling alley
has a rich history of all the western movie stars that spent their off camera
hours having a great time there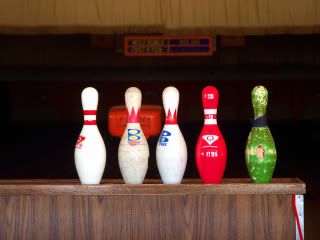 Real cool old Wurlitzer juke box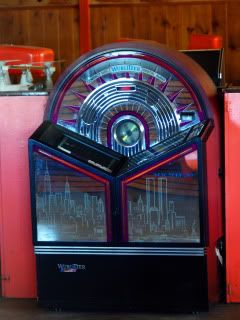 And the great old mural painted along the wall depicting Pioneertown
Filming History and "How the West was Once"
by artist Wallace Roland Stark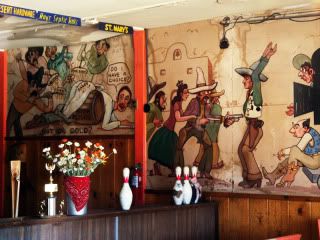 after that Pat and I drove back to his house where I packed up the Harley for the ride home and hit the road westbound
As I headed back to LA while sliding by cars and trying to find that gap in traffic where you settle in and review the flashes of images of the things you experienced and the people you interacted with the last couple of days,
it invariably seems like you did more in twenty four hours than you did the whole week prior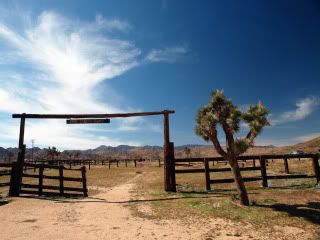 That thought always put's a smile on my face ......
~M