Every year in and around Los Angeles there are always great annual events,
one of the most famous is the Rose parade in Pasadena on new years day.
Well later on in the month of January is another kind of parade, one for the odd and the wacky the irreverent and the wild, this parade also takes place in the city of Pasadena and it's called "The Doo Dah Parade" this off beat parade has been in existence sense 1977
and this year will be celebrating it's thirty second year of great entertainment for one and all that show up or participate.
It's been a few years sense I've gone and the weather here in Southern California has been perfect this January so it was a beautiful day to see and have a great time with friends.
My friend Karl opens his home to one and all that care to show up before the parade starts and he makes a great egg pie served along with some mean bloody mary's
So a great start to the day with something tasty to eat and a chance to get well oiled before the parade starts
Well all of us that showed up at Karl's for breakfast headed happily down to old town Pasadena for the start of the parade
The streets are lined with people and one has to try and find a spot where you can see the action and take pictures if your so inclined like I am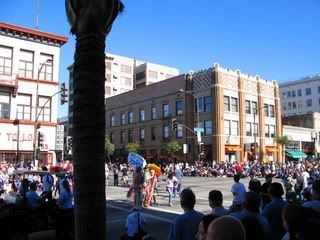 I settled in on a corner and waited for it all to roll by
looking up I saw this devil and his female demon riding a side car motorbike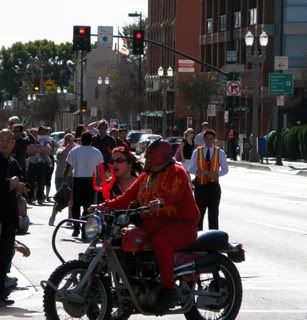 Next up was this dominatrix cracking her whip and dancing around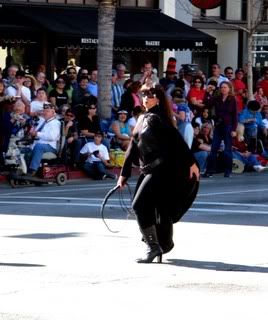 You think this guy was looking for a photo op?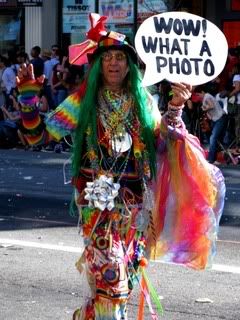 The other thing you will see are bands on flatbed trailers here is one that was playing some great surf guitar music
As the parade progresses you will see odd groups of people and sometimes people with animals like this group of folks with their weenie dogs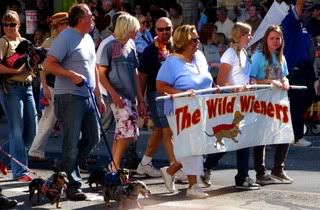 I liked the look of this dude riding his vintage bicycle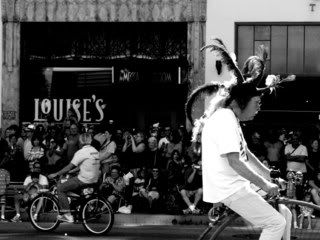 Next up was this giant red cat car, the funny thing about this was as the car did circles in the street the cat would lift it's tail and spray god knows what on the crowd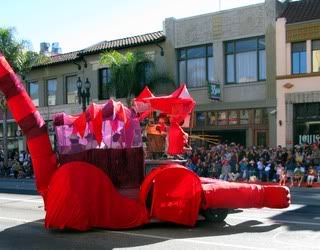 This bunny was in all the action, riding a mini bike, walking the parade and eventually driving a hearse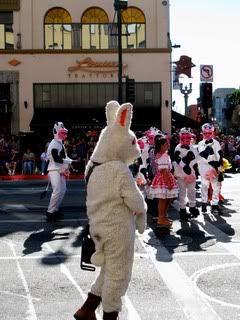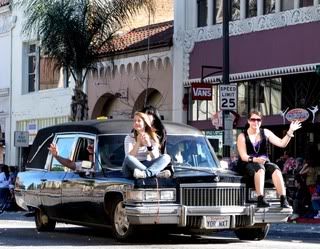 Saw this dude dressed up as George Bush the demon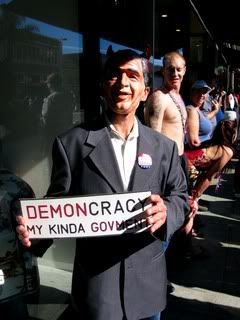 Here was a lone polar bear with a homeless sign asking for help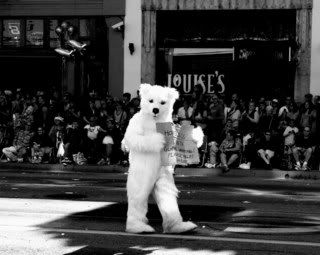 These two disco bicyclist's were cool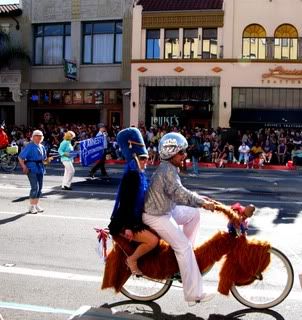 I liked the look of this devil girl speeding down the street
Here's another girl heralding the arrival of the parade queen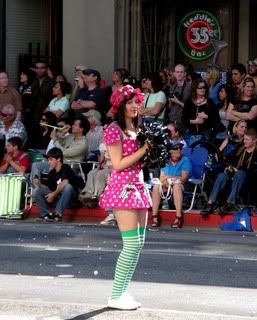 And the Parade queen herself riding her beautiful horse,
Speaking of queens, this dude sure had a great singing voice as he entertained the crowd, and I guess one could say not bad legs either......lol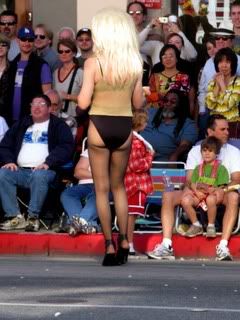 Next up was the disco drill team, a real crowd favorite,
and it was fun seeing all of them do their routines to those great dance classic's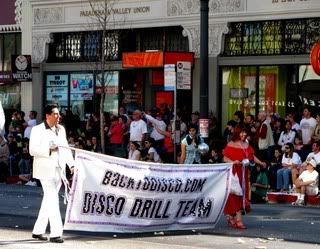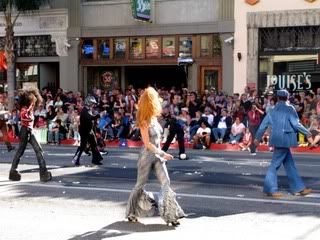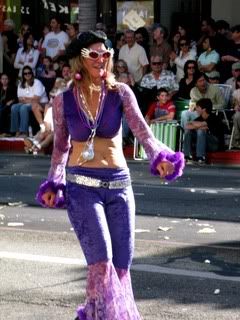 A cool couple from the drill team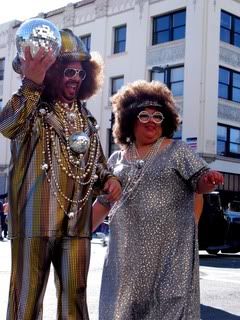 The really cool thing about this parade is the wacky things you see
like this girl in a cupcake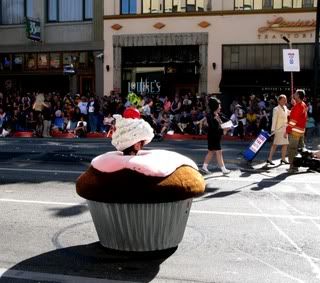 Or a hula dude
A Dalmatian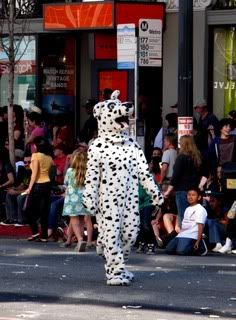 A fish girl
Or a Sly Stone kinda dude on stilts with a giant flying saucer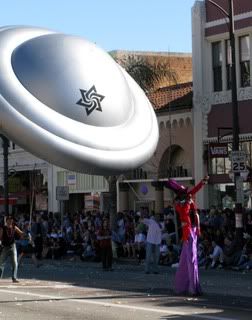 How about this sign
This guy was really rockin out on his plastic guitar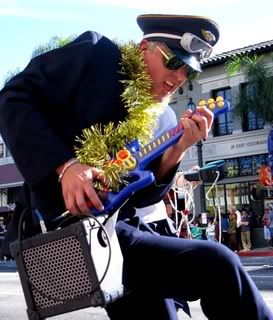 Loved this wild looking truck and trailer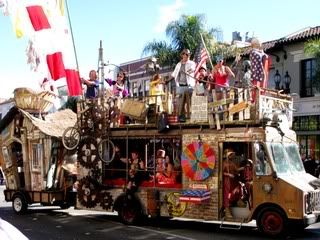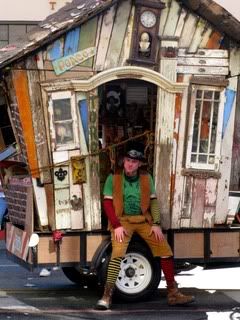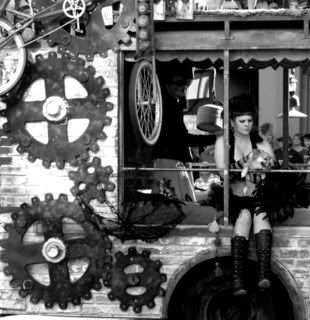 And here's a pic of the Grand Marshall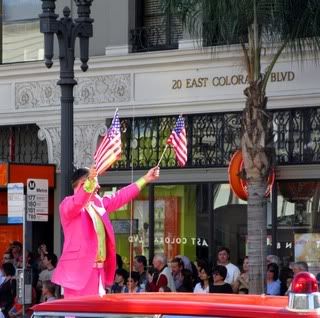 More odds and ends of the parade
Two old fat guys
Two legged horses and riders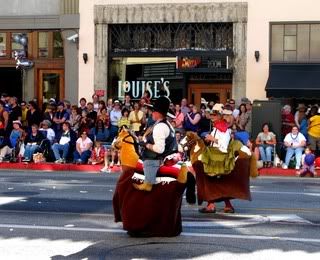 Girl in a box,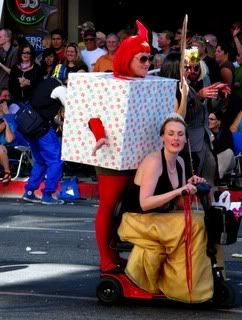 Air bagpipe Elvis
A chicken followed by cows on roller skates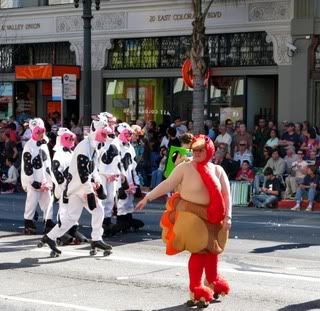 Here you had Julius Caesar, he would get stabbed by the surrounding senators and spurt blood in about fifteen different places.....it was funny!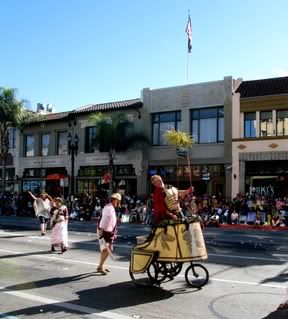 I have to agree with this guys sign
All in all a really fun parade and it ended with this great drum corps from East LA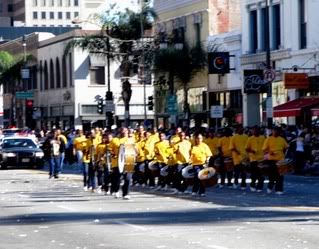 We all headed for some more drinks at a Irish pub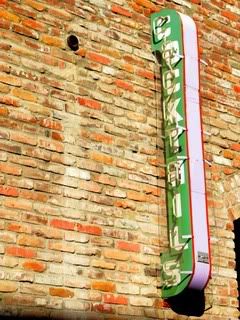 Just keeping the rest of the afternoon going with the rest of the revelers
You gotta love So Cal on days like this!
~M