One of my best friends Pat Bianchi (who I usually do most of my long riding trips with) has opted out of his Harley and has been riding a BMW GS lately, he also recently picked up an very nice old vintage 1971 R50 and joined a local BMW club.
Pat mentioned they were doing a run to Kernville and asked if I'd like to ride with him and the group.......Organized rides are something I pretty much never do as a rule but I said what the hell and took a chance.
Pat spent the night at my place and we got up early the next morning, not too worse for the wear after some great Sushi and wading pretty deep in the Sake river the night before.
We had to ride to the city of La Cañada which sits at the foothills of the San Gabriel Mountains.
This was where the BMW club riders would be meeting for breakfast and start the ride from.
We arrived at the designated restaurant and met all the guys and a few gals who would be riding on the trip, everyone was quite nice and friendly and in a great mood to have an adventure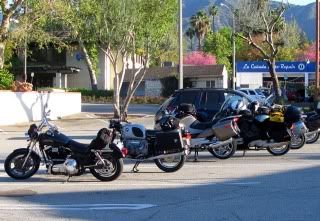 After a brief breakfast for most, (mine is always coffee, vitamins & Ibuprofen) we all met out in the parking lot for a general orientation and the riding etiquette for the riders on the trip to Kernville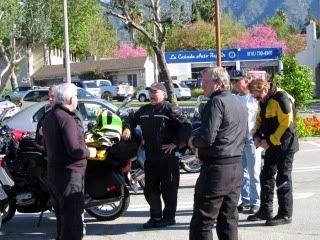 The great thing about this ride and the the guys that put it together is that they map out a way to get to a destination with virtually not ever going on a major highway...... pretty much back roads all the way......and that my friends is the shear joy of motorcycling!
We first took a route going through the Angles Crest highway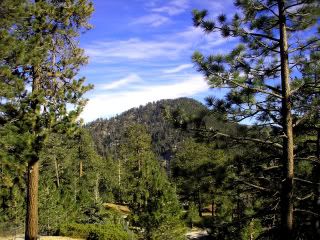 Always a real nice ride through the local LA mountains
We continued onward and rode through the lower desert of Leona Valley and Lake Elizabeth
The first gas stop was after 105 miles of canyon and mountain riding and it was shaping up to be really beautiful weather for the ride, I'm sure everyone including myself was having a really wonderful time doing what we all love to do.......It's these kind of days that make you love motorcycling.....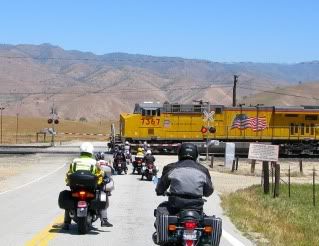 Here we had to wait for a freight train to pass before gassing up, just another form of working traveler I suppose that criss-crosses the countryside
The first town we passed through was the city of Tehachapi, it's a city that was incorporated in 1909 and is located in its namesake the Tehachapi Mountains between the cities of Bakersfield and Mojave in Kern County California.
The area is known for its Tehachapi train Loop, Tehachapi Pass Wind Farm, and it's proximity to Edwards Air Force Base where the Space Shuttle lands
As we rode into town and the old section of Techachpi I saw quite a few things that caught my eye, and being the shutter bug that I am I spied a cool old gas station sign that I had to take a photo of, so I made a u turn and pulled off the road for a minute to take a photo of it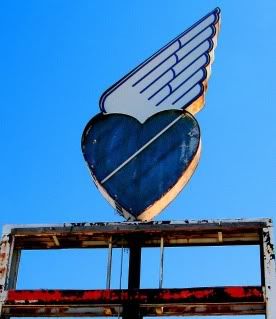 I was thinking I could easily find the group again with some speed on my part to make up for lost time and of course I promptly lost everyone, fortunately knowing the things I do when I ride Pat pulled off and waited for me to go by (and I did taking the wrong road) Pat caught up with me and turned me around and he certainly was a good bro to do that
Neither one of us had the route map, and not knowing the exact route the group was taking we stopped and looked at a California map that Pat had brought with him.
We assessed our options and the roads available and decided to ride ahead and find a point where we could run into everyone again,
We ended up at a little road house stop along highway 58 called Keen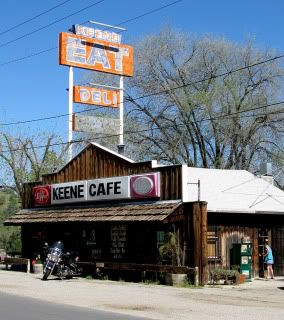 And as luck would have it we didn't have long to wait as everyone suddenly appeared coming down the Tehachapi Loop road and passed us as they were headed onto the 58 Highway, a few of the riders waved at us as we fired up our bikes and fell right back in line with the group for the rest of our journey
Heading back up into the mountains we rode through the Tehachapi Pass Wind Farm on the Willow Springs Road
Something about seeing all these windmills producing clean energy is a rather calming feeling for me, it seemed like there were hundreds maybe a few thousand of them rotating from the wind in that area
The Southern California Edison company who has built and operated the wind farm sense the 1980's plans on developing another fifty square miles of wind farm power for the future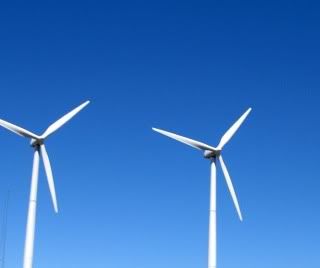 One thing Pat learned about his BMW R50 was that it's not exactly fast going up mountains, and he was ringing that BMW's neck for all it was worth to keep up.....lol
I think the next time out he'll ride the GS, because that boy has the need for speed
I took a photo of him here as I easily passed him by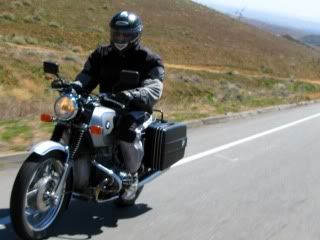 Riding onward through the lower desert and the Antelope Valley we encountered the California Poppy fields and state park preserve, the group made a quick pit stop at the park for a look around and a rest stop for any of the riders
This time of year the hills and mountains of California are lush and green, and the desert flowers are in full bloom..... this is always a pleasure to see whether it's the Antelope Valley poppy fields or the many blooms one will find in Joshua Tree in the Springtime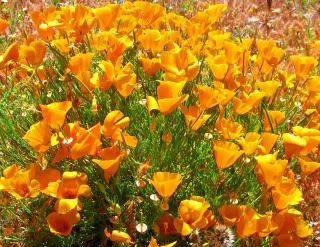 Here are the beautiful California Poppy's........our State flower
As we made our way deeper into Kern County we came into an area where the cattle run free....basically what they call "Free Range"
So every now and then as you would come around a corner the cattle would be right there, we had to be really careful of the animals.......it's never a good thing if they get spooked and start stampeding
lol I passed a few feet from this fellow....nice and slow like
A little further along we saw some wranglers that were herding a group of cattle, so we all waited for the cowboys to round them up off the road and put them in a large coral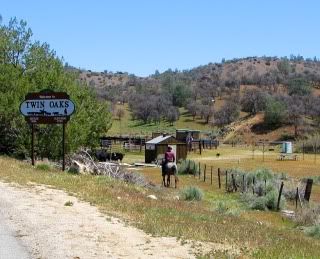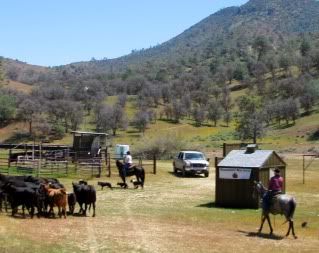 It was getting close to lunchtime and being the non breakfast eater that I am I was getting rather famished(I'd been telling my tummy to piss off but it still grumbled back at me)
As we rode along the Caliente Creek road we stopped at this old red school house that was built in the 1930's
The old school building seemed like the only public place in Twin Oaks.......this town if you could even call it that was really small and very rural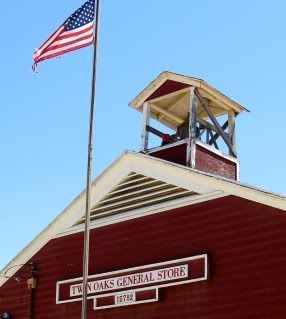 The old Twin Oaks school house had been converted to a general store and restaurant,
Inside they still had the original school chalkboards on the walls, the place had kind of a old homey western feel to it
As pat and I sat at the counter I noticed the 4x3 kitchen was manned by one cook already slaving away for the customers that were there before we arrived
I looked behind me at the other twenty people who just sat down at various tables and said to Pat lets make it simple and order now,
Lucky for us and the hole in my tummy that needed filling because the rest of the group waited an hour for their food to be served
We finally left Twin Oaks and headed on towards Bodfish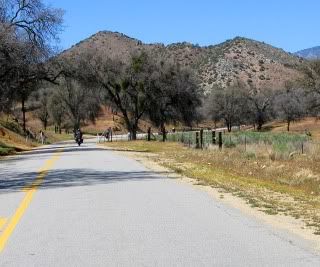 Evey now and then I would catch something interesting to take a photo of on the fly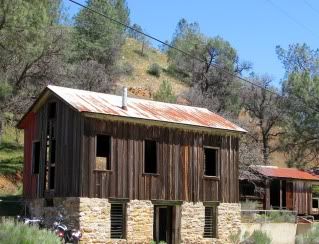 The Caliente-Bodfish Road is a wonderful road, everywhere you look there are large California Oak Trees and a lot of Spring flowers, this road takes you all the way up the mountain and as you come over the crest you can see Lake Isabella and the valley below
As we made our way through Bodfish and Lake Isabella I spied a few things I wanted to come back and take pictures of later (I learned my lesson from stopping before)
Riding into the town of Kernville we crossed over the Kern river (known for it's great white water rafting) and found our motel for the night a place called the "Kern Lodge" it's a nice motel to stay if you ever find yourself in Kernville and it's right next door to a great micro-brewery and restaurant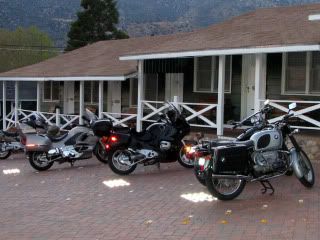 As everyone was settling in Pat and I decided to hit the road again,
I wanted to check out some things that I had seen and take some pictures
Of course anyone of you that know me or read my blogs know that I like checking out old graveyards and I found this one right next to and overlooking the Kern river
Here is a old headstone from 1871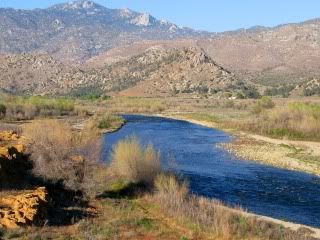 The other thing I love to shoot are old motel and neon signs
These cool old vintage signs were found in Lake Isabella, the abandoned and empty motels were a far cry from their best days, now just weathered signs from days gone by..........stark reminders announcing what used to be.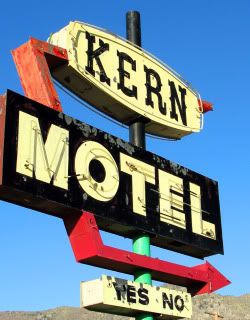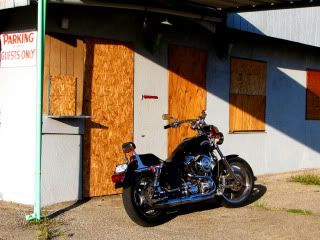 I liked the sign for this juke joint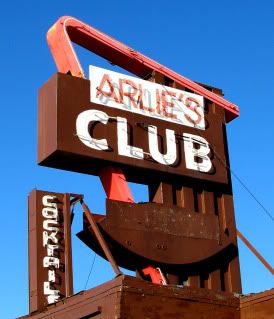 Moving on Pat and I rode into the little town of Bodfish, I had seen this place called Silver City.
Silver City is an old western town movie set that now has several antique stores full of antiques and collectibles
Well by the time we got there the owner had just locked the place up but he was nice and said go ahead and take pictures of the place if I wanted to....so I did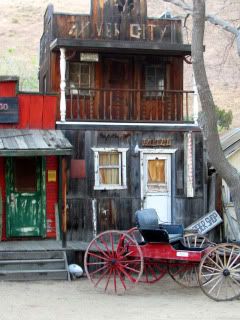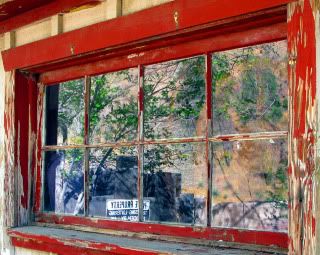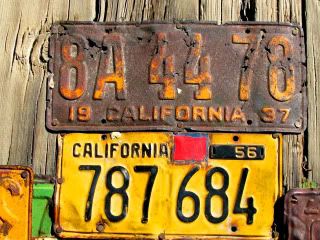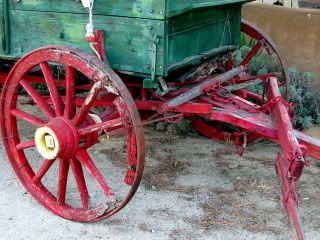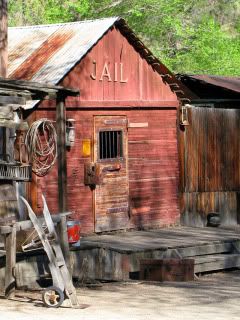 From there we rode back to Kernville passing Lake Isabella and the Kern River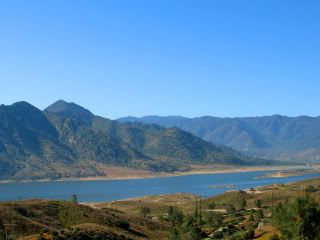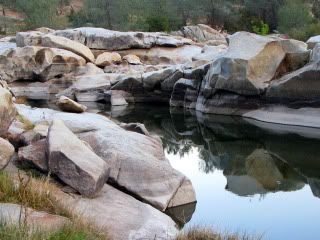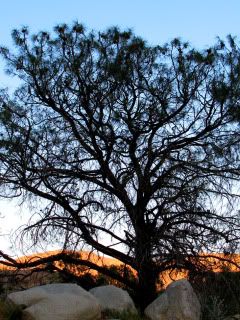 Arriving back at the motel we got cleaned up and had a relaxing time on the porch hoisting a few beers with some of the guys as the sun set in the west
Seemed like a nice finish to the day's ride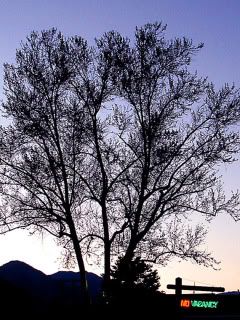 Pat and I got up the following morning while most of the club riders were at breakfast.
we both decided to go back home the same way we came so I could take some time for my photography.
Saying our goodbyes to the guys having breakfast in Kernville we headed out on a beautiful Sunday morning
Here we are on the Bodfish-Caliente road, taking in the beauty of the landscapes as we rolled by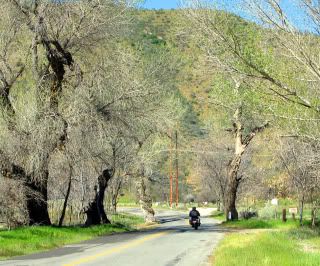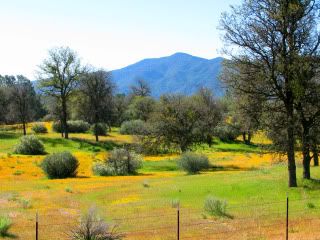 Here's Pat next to the old Havilah courthouse built in 1866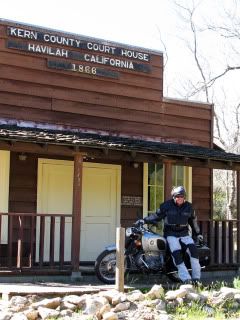 Riding onward through the oak woodlands and the grazing cattle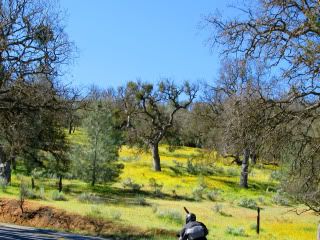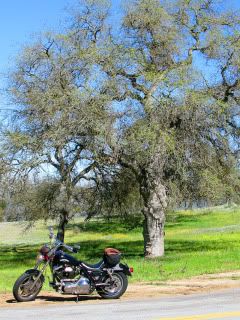 As we left the mountains we set our sights on Tehachapi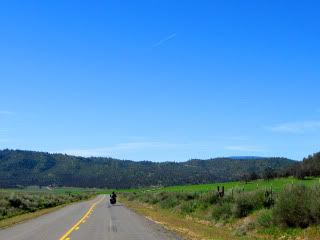 The Tehachapi Loop is a .73 miles (1.17 km) long 'spiral', or helix, on the railroad main line through Tehachapi Pass, in south central California. The loop derives its name from the circuitous route it takes, in which the track passes over itself, a design which lessens the angle of the grade. A train more than 4,000 feet (1.2 km) long (about 85 boxcars) will thus pass over itself going around the loop.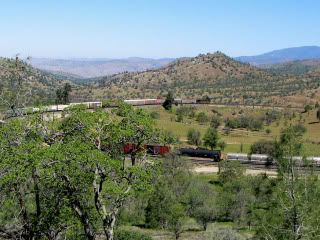 We missed the Tehachapi loop part of the ride the day before,
and as Pat and I rode up we both watched the train pass over itself.
This loop is considered one of the seven wonders of the train world, Hailed as one of the greatest engineering feats of its day (ca. 1876) and it is a truly amazing site to see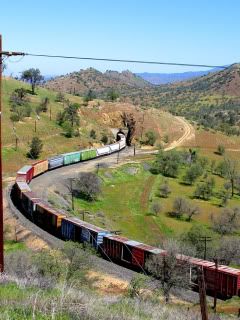 Arriving back in downtown Tehachapi Pat and I decided to have lunch at Kelcy's
Kelcy's restaurant has been in existence under a few different owners sense 1933 and the walls are adorned with photos and memorabilia of the history it has seen since it opened, and the food is excellent!
So if your ever in downtown Tehachapi check it out....oh and the sign is really cool too ;-)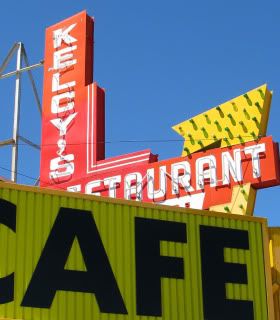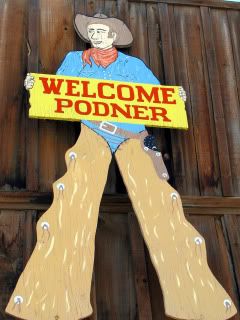 After lunch Pat walked over to the park for a cat nap while I cruised around town for some photo opportunities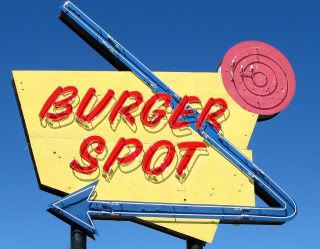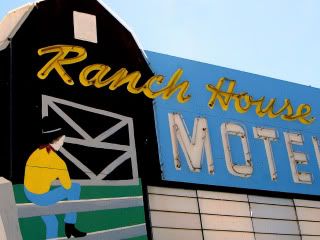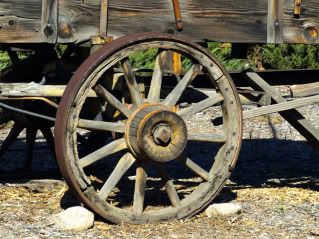 Years ago The area in and around the city is also known for its apple orchards, though these have decreased in recent decades, here is the old Apple Orchard warehouse train depot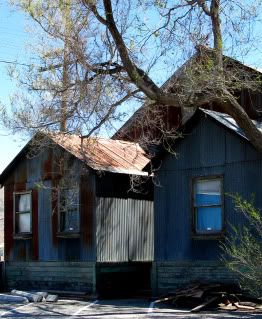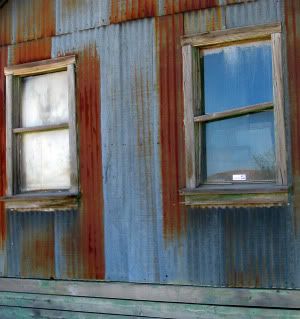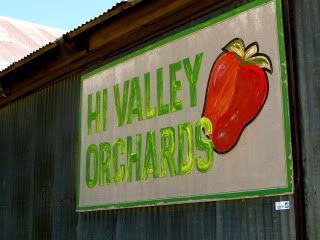 And if you have a sweet tooth that needs attention,
the Apple Shed right next door has a real nice homey ambience and superb baked pies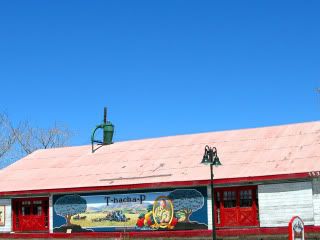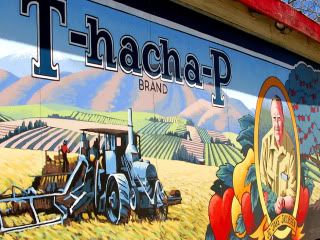 Well it was time to hit the road again and finish off our day riding back through the poppy fields and Antelope Valley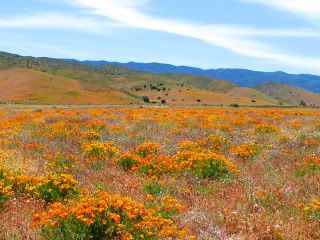 The outer reaches of the American southwest are the Southern California deserts with their vast places of inherent beauty and intrigue
As a native Californian it's a place that holds a dear place in my heart,
And I think if any of you spent some time there it might hold some good memories for you also
Happy Trails.....
~M