The next weekend after my trip to Alaska I did a motorcycle run with my buddy Pat Bianchi and the Los Angeles BMW club to a little known town right from the California old west called Benton Hot Springs.
Pat was riding in from Palm Springs and I from LA so we decided to meet Saturday morning at 9am along the old route 66 in the city of Barstow and from there we would ride and catch up with the rest of the BMW club members on the road
The weather was perfect leaving LA while heading northeast into the Mojave desert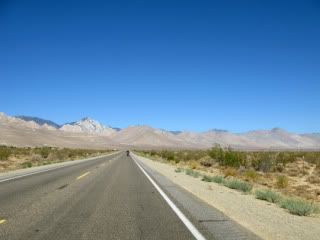 Having made some good time(nice way to say you're speeding down the highway)I stopped off in Victorville to take a pic
The New Corral motel sign is great old vintage neon sign from 1947 when the New Corral Motel opened, the motel sits along a stretch of route 66 in Victorville CA. and an interesting note to the sign is that the horse depicted was patterned after Roy Rogers famous horse "Trigger"
The Roy Rogers cowboy museum used to be in Victorville and then moved to Branson Missouri and after a few years closed. This year in July everything was auctioned off including
Trigger
But he still lives on in neon along old route 66 in Victorville
US Route 66 for any of you that may not know was one of the old East/West highway routes in the United States and it was also known as "The Mother Road" officially running from 1926 till 1985 when it was finally removed from the United States Highway System and replaced by the Interstate Highway System.
Now all along this historic route were thousands of small towns, motels and interesting road oddities. Many of these places that catered to the traveler have now closed and disappeared but some of the old motels and towns that aren't to far from the interstate still manage to stay alive and there are a lot of folks myself included that still like to travel route 66 searching out those slices of Americana from a bygone era.
With that in mind I pulled off hwy 58 onto West Main street in Barstow which used to be part of route 66. Now back in the day this would have been a major stop for any traveler and to some degree it still is.
Barstow having been started in the late 1840s was a convergence of all kinds of things, in the rich mining history of the Mojave Desert miners came to Calico and Daggett following the discovery of silver in the 1860s and Barstow thrived as railroads were constructed to transport goods and people.
I didn't have time to photograph any historic places in Barstow from the 1800's but all along Main St. there are these murals depicting the rich old western history of this desert city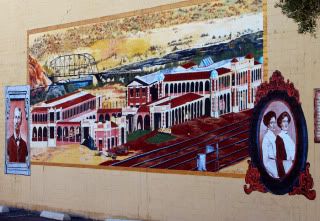 The brief time I was there I did catch a few things more for the age of the automobile and for those of you that know me you know how I love old vintage neon signs so here are a few images of some of the signs found along Barstow's historic route 66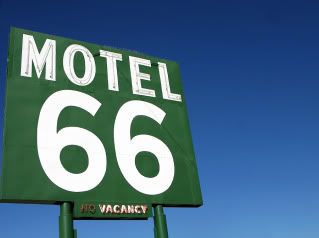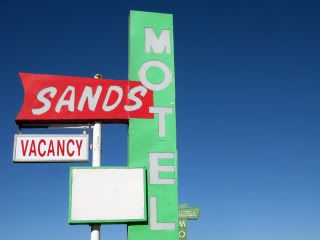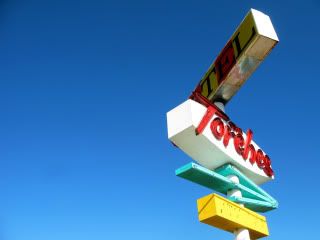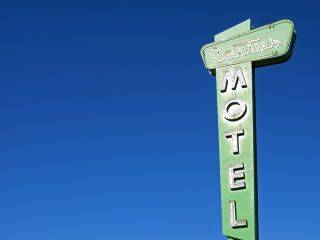 Pat found me while I was taking pictures and was kind enough to wait while I snapped a few more, we then fueled up the bikes and hit the road to meet up with the BMW club in Lone Pine
Riding west now to get to hwy 395 we found this great antique warehouse with some wonderful old Gas Station signs and memorabilia ........ the place wasn't open yet but I got a few pic's of some of their signs & things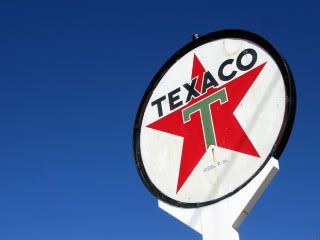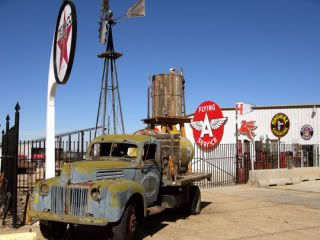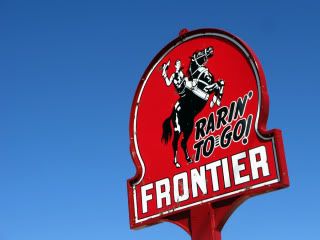 Riding along the 395 enjoying the great high desert scenery......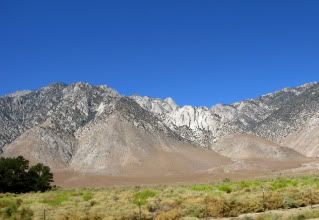 We caught up with the BMW club in the town of Lone Pine which was the designated lunch stop for the ride.
Lone Pine is a quaint little town started in 1870 and hwy 395 runs right through the middle of town so it makes for a good place to stop have a bite and relax a bit
We had lunch at the Alabama Hills Cafe which is named after the Alabama Hills west of town that have been frequently used as a filming location for Westerns and other movies.
Lone Pine even has a film history museum that tells the story of all the great movies that have been filmed in that area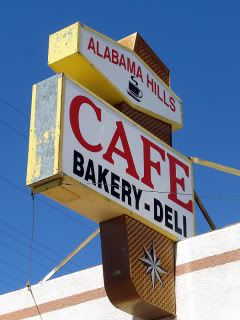 After lunch I walked a bit up the main street and got a few more vintage neon signs
Like this great one for Margies Merry Go Round Restaurant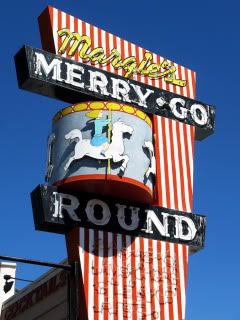 Or the trails Motel
Or this great old hardware store sign and fish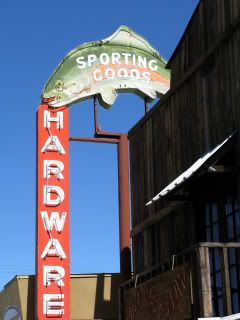 Now riding with the rest of the group we all headed northeast on our last leg of the days journey.
In the town of Bishop we took hwy 6 to hwy 120 and finally arrived at our destination the Benton Hot Springs Inn.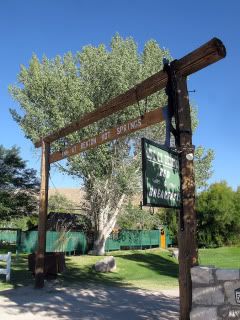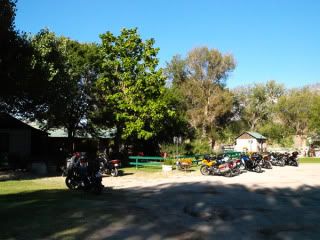 Benton Hot Springs is one of the oldest surviving towns in Mono County being established in 1852, travelers heading south from the nearby mining towns of Bodie and Aurora used Benton as a stop over and in 1862 the town boomed as a supply center for all the nearby mines.
Pat went inside the office to see where we would be camping and I decided to have a walk around and see what old structures were still standing,
Like this old block house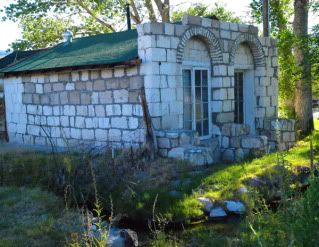 And here's the old Wells Fargo stage coach stop that also served at one time as the Benton general store
Pat had finished up at the office and informed me that the campsite was in an area behind the Benton Inn so we got back on our bikes and rode a short distance to our campsite
We unpacked and pitched our tents where we were told to go and right as soon as we were done the manager of the place roared up in his truck and jumped out yelling at us for being in the wrong spot....... well we weren't in the wrong spot according to our receipt and where we were told to go
Now Pat's fuse being much shorter than mine had a few words to say right back to the manager about their mistake...... Well he informed us that we could move from that campsite immediately or leave altogether and neither of those options were pleasant ones but the latter was an option we for sure didn't want to take.
And just for good measure as we started to tear down our tents the rude manager said he was calling the Sheriff on us (it was news to me that the words fuck and asshole had become suddenly illegal) but we complied with his demand.
All the campsites there are nice and if the man had just apologized for an office mistake and asked us kindly if we could move we wouldn't have been so pissed off but he made it out like it was all our fault and it wasn't........ So we collected our things moving one campsite over and pitched the tents all over again.
While we were doing this the nice lady from the office stopped by and apologized for her mistake and any inconvenience it may have caused us and we thanked her and said that we were cool with moving it was just the way we were told to do it that wasn't appreciated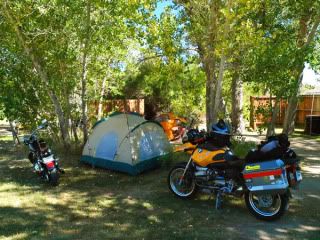 Now the great thing about these campsites is that the natural hot spring is flowing right behind you and the water runs a consistent 110 degrees, the spring water is then fed to a redwood hot tub that sits right at your campsite
I can tell you it was so amazing to sit in that tub at night and just look at all the various stars, constellations and the scope of the milky way, everything seemingly so close that you could just reach out and touch them.
So after we had our camp set up again we hopped back on the bikes and headed down the road to hwy 6 where we saw a small market to get some extra supplies for the weekend
You ever watched one of those films where there is a scene of some sort of business where a grizzled proprietor is listening to the strains of some gospel radio station with a choir singing softly in the background as a preacher is ranting on about Jesus and the devil and then you hear his fevered pitch for a donation to keep that hucksters ministry going........... yes it was that kind of weird religious muzak we had for our unique shopping experience at the old trading post......... Yes brothers and sisters even you to can have pie in the sky courtesy of Reverend Ike.......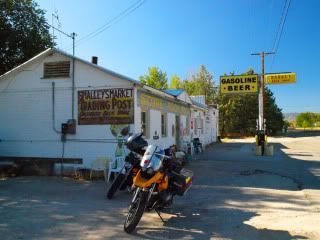 So Pat and I are hanging out in front of the market for a bit having a drink, not really needing to be back to the campsite anytime soon
When all of a sudden we see the sheriff go rushing by like he had some kind of big emergency to get to.......... I joked to Pat that there went the sheriff looking for the bad man who said some naughty words so he better go hide his sorry ass someplace for a while.................well it seems that jerk-off manager did call the sheriff on us and that poor bastard had to drive 70 miles just to hear that the little campsite mixup had been quietly resolved............ From what we heard later that was one pissed off sheriff and I bet you dollars to doughnuts he probably said the same colorful words we did ;-)
That evening everyone gathered around the patio and back area of the Inn for a BBQ, it was a nice setting and a pleasant time was had by all
The pond next to the patio
Here's Pat with one of the BMW club members
And me quietly waiting for a few pieces of yard carp(chicken)for dinner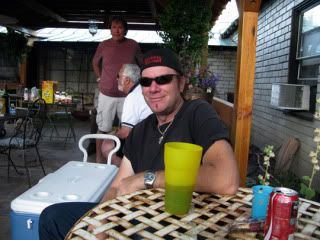 There were three different rides discussed for the following day, one was to the old ghost town of Bodie, another was to the Ancient Bristlecone Pine Forest and the other was a run up the Sonora Pass, and that sounded good so Pat and I decided to do the ride through the pass.
The Sonora Pass is the second-highest highway pass in the Sierra Nevada mountain range and at it's steepest part it has an elevation of 9,624 ft, the pass also has some of the steepest road grades that are up to 26% in some locations so this pass is not recommended for large trucks or vehicles that are wide, heavy or long.
That being said it is one of the more beautiful and scenic rides one can take in this part of California
A small group of us headed out the following morning on hwy 120 towards Mono Lake and the town of Lee Vining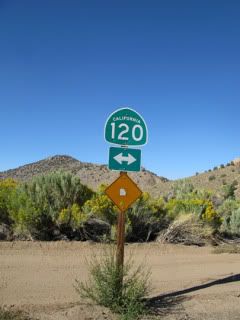 The 120 highway is quite picturesque with it's rock formations, high desert landscapes and pine forests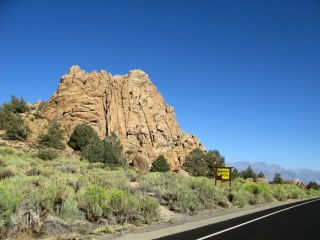 Right at the end of highway 120 and where the 395 intercede is the great
Mono Lake
After traveling northbound on the 395 for a bit we caught the 108 going west which is the highway for the Sonora Pass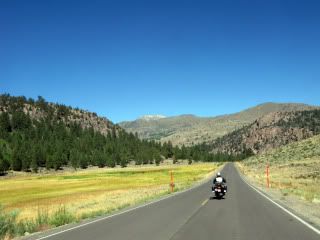 The route is a steady climb through the mountains and forest
It is a route that is also traveled and enjoyed by many motorcyclists, here are a few passing us from the other direction
After riding up the pass for a bit we all stopped for a small hike in the forest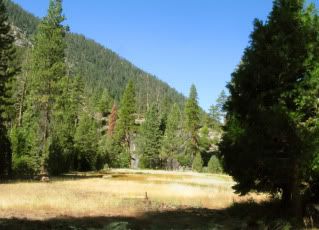 A fish-eye lens view of the fearless Sonora Pass BMW riders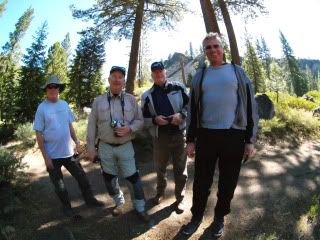 The clean fresh mountain air with the scent of pine is like aroma therapy and if you add a crystal clear alpine stream into the mix...... it's heaven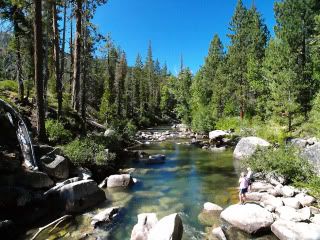 Moving on towards the top of the pass we stopped at the
Dardanelle Resort
that was established in 1923
They have a wonderful facility with a restaurant & bar and that's where we all stopped for lunch, they were getting ready for their end of summer luau with two pigs roasting on the BBQ but we all had lunch at the bar not waiting around for that to happen
After lunch we went back down the pass the same way we came stopping once more to check out some old cabins and the river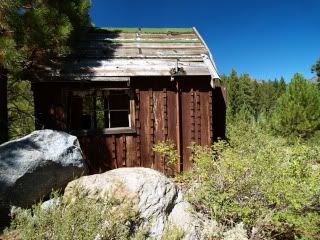 As we left the Sonora Pass one of the great little western towns you go through is Bridgeport......... Bridgeport was established in 1864 and it's another place that has one of California's best-kept natural hot springs, the Travertine Hot Springs
You get a sense of the old west and a time gone by looking at the Mono County Court House in Bridgeport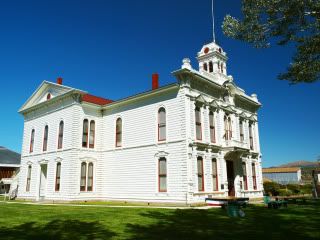 Pat and I stopped for a bit to have an ice cream and I took a walk and snapped a few pic's around town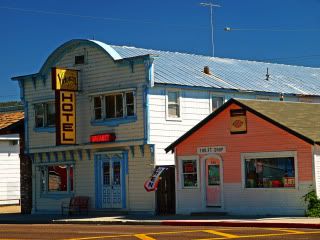 Here's the old Victorian and historic
Bridgeport Inn
that was built in 1877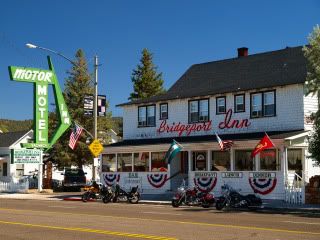 Pat and I decided to make our own dinner back at camp instead of having dinner in Lee Vining with the rest of the group, picking up some firewood and supplies for dinner at the small local market we headed out on the last leg of our days journey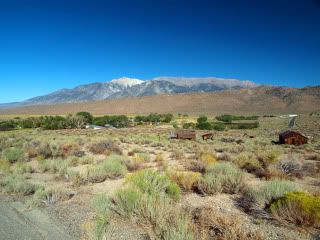 After we arrived back at our campsite in Benton I went out to photograph a few things I had scouted out earlier that were nearby
Like this old buckboard wagon and wheel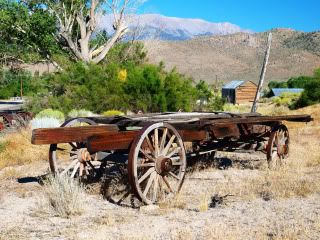 Or this meager wood dwelling from the 1860's
Pat and I relaxed in the hot tub for a while and that was a perfect thing to do after riding all day.
After that we had dinner....... there is a good feeling about having something warm and cooked when you're camping and many times it may not be what you might eat at home but the ambiance of the great outdoors and the need to satisfy your hunger, well those two things combine to make a simple meal seemingly taste as good as anything you may have had at a great restaurant......... and that's the way it seemed as Pat and I dined on grilled spam and cheese sandwiches with a bowl of chili and a beer.......
The rest of the evening was spent sitting around the campfire having a few more beers and talking to the rest of the guys from the BMW club who where camping along with us
The next morning we got up early packed up the tents and the rest of our things said our goodbyes and hit the road heading home
Making good time down the 395 we stopped in the small town of Independence for fuel
and then continued southbound towards Southern California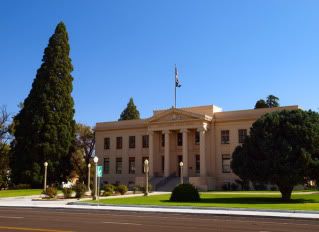 It was getting close to mid-day and Pat knew of a great place to eat in Olancha so that's where we had a wonderful small country cafe style meal with friendly service and delicious food
After lunch we rode down the highway together till it was time to go in two different directions in the California desert...... Pat to Palm Springs and me to Mojave
Pat and I waved to each other and we went our separate ways with an acknowledgment of some time well spent
As I rode down highway 14 towards Mojave I decided to make one more stop to take a picture.
It was a place I had camped many times as a boy scout and I spent a few moments there with not a soul around bringing up in my mind many good and happy memories of a place that will always be dear to my heart........ Red Rock Canyon
So there it is.......another run with just a few more hours till I'm home, having thoughts go through my mind that for at least a few days you put some wind in your face and lived life the best way you know how........... On the road again........ Just like ol Willy Nelson sang about.
~M