It's been awhile now since I've posted a blog about one of my trips and although I've still been going out here and there most of it has been in the local Southern California area.
I've been doing quite a bit of photography now for a couple of upcoming books and that has been consuming quite a bit of my time.
Originally earlier in the year my friend Pat Bianchi and I had planned a trip to go up the Pacific coast all the way into Canada but due to some personal circumstances with Pat we scrapped that trip for this summer.
I pretty much resigned myself that I wasn't going to be traveling very far this summer until I got a call from a good friend of mine Ron Mesh, Ron is the tour manager for the rock band Collective Soul and it seems they were having a gig at the Alaska State Fair.
Ron invited me to come up for the Friday evening gig and then to hang out till Monday to see a little bit of Alaska if I wanted, well I didn't need too much of a shove to call back and and say I'm certainly down with a trip to our great northern state.
So it was at the end of August that I made my way down to LAX and hopped on a plane headed to Salt Lake City Utah and from there to Anchorage Alaska.
After sitting on the LAX runway for an hour because of high winds we finally lifted off with the pilot taking a little different route because of the high winds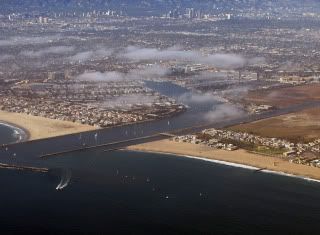 This was kind of cool because we flew up the coast and then over the San Fernando Valley where I live and I was able to actually see the stables where my horses are kept with a view from way up in the sky above
The flight to Salt Lake was nice with only a few spots of wind turbulence, here is a areal view of the great Sierra Nevada mountain range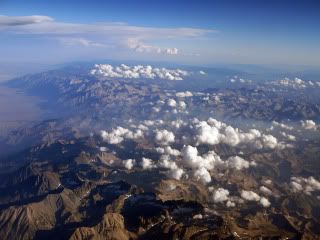 I've never seen the great salt lake of Utah but it looks massive from the air and it was a beautiful sight to see as the sun was setting on our landing approach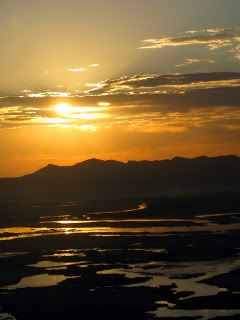 The flight into Anchorage was uneventful and Ron and a few of the road crew picked me up at the airport, it still stays light out quite late (9 o'clock or so this time of year) but it was dark around midnight when I arrived.
The gig for the band was at the Alaska State Fair which is in Palmer Alaska and that small town is nearly seventy miles from Anchorage.
Seems the local sheriff is a real stickler for anyone over the speed limit and we got pulled over and ticketed for being slightly over that limit.
The sheriff wanted to check all four of us in the car out and since we were all from different states we sat on the side of the road for a long time while he ran our information on the police data bank computer. No one was one the most wanted list so
after that was finally out of the way we arrived at the Valley Hotel.
Our hotel in Palmer Alaska has been here since the 1940's and it's a rather nondescript building housing several rooms a 24 hour diner & bar along with a liquor store that you can buy booze till 5am......... it seems that your die hard drinker from all points around know about this hotel and they will drive all the way from as far as Anchorage or some other place to get some more booze after the bars close, we learned all this from the local sheriff who pulled us over, this is why he waits by the highway like a spider looking for a fly and I'm sure he gets his fair share of drunken drivers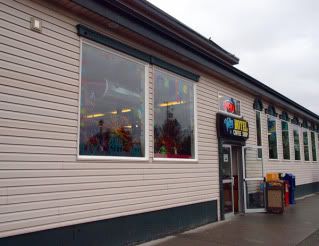 Friday morning was pretty low key and the crew didn't have to start setting up the band till early afternoon, the weather was cool with a bit of rain but mostly just overcast, Ron and I took a wrong turn going to the Fair and ended up by the Palmer airport which had some nice vintage prop engine cargo planes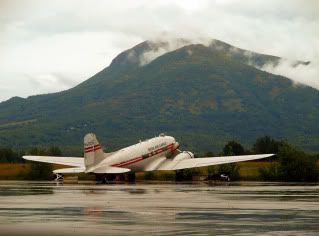 We got back to the fair as the crew was stetting up the musical equipment and I decided to take a stroll around the fair, all that was there was a few farm animals, some carny rides and lots of booths and tents with various things for sale..... I'm used to the LA county Fair so this one really paled in comparison but they did have a few old tractors on display that I liked and the locals seemed to be having a good time which is the important thing.
I went back to the bands office and hung out backstage till it was time for Collective Soul to play. Ron gave me some photographer press credentials so I was able to go out in front and photograph the band during the concert.
I'll say one thing for Alaskans they sure love their music and they turned out in force for the Collective Soul concert which ended up being a sold out show
Front man and lead singer Ed Roland along with his brother Dean(rhythm guitar)Will Turpin(bass)Joel Kosche(lead guitar)& Cheney Brannon(drums) put on a great show and the enthusiastic Alaskan audience loved every minute of the concert giving the band a resounding encore ovation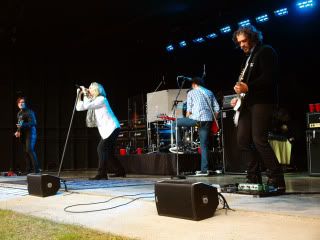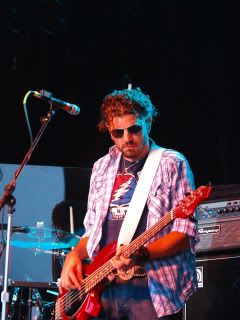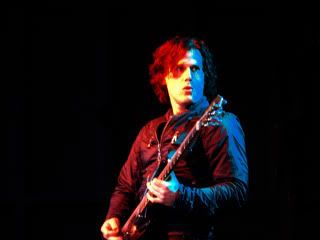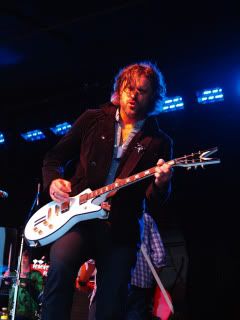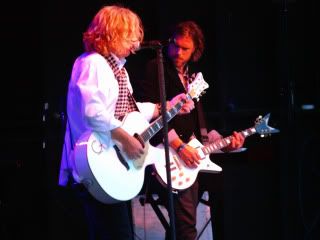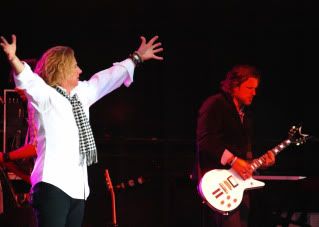 After the show we all headed back to the bar at the Valley Hotel and had some food and drinks with one of the promoters having everyone do this flaming drink that you put your hand over the snifter glass to put out the flame and then inhale the fumes and shoot the liquor when you remove your hand over the glass........... yes, a good time was had by all......
The next morning I met Ron and Ed in the bar for breakfast, the crew had flown home early and some of the band members were staying a few days to check things out in Alaska.
Ron wasn't feeling that well so he went back to his room to relax for a bit and I went for a walk and didn't get to far because right outside the hotel's front door was a local parade in the street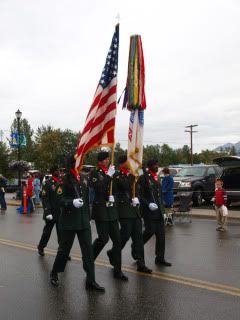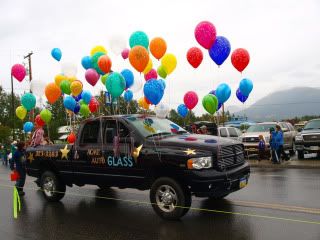 Seemed most of the parade was local businesses promoting their places and whatever politicians running for office, I got bored with watching that pretty quick and
Ron was feeling a bit better so we got in the Jeep and headed toward a glacier we had heard about from some of the locals.
One of the great scenic byway's in Alaska is the Glen National Byway and we decided to take this highway to the Matanuska Glacier. Although the weather was overcast with light rain the drive was nice and the countryside beautiful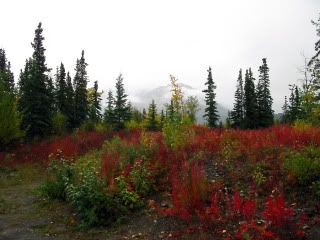 Ron and I arrived at the glacier after a pleasant drive and took a nice hike to the front of it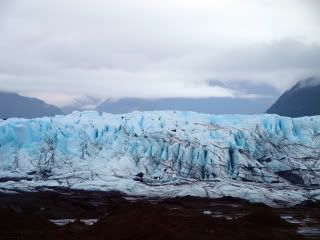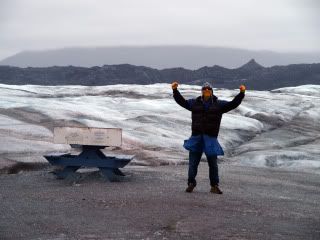 I didn't go much further because converse tennis shoes aren't exactly the right type of hiking shoe for ice and few more steps and I would have been ass over teakettle
We headed back to Palmer and chilled out till it got dark and time to go check out a few of the local bars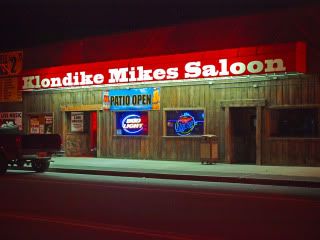 We had a drink and watched a local band but neither one of us were in the mood to go on a drinking spree so we just headed back to the hotel and called it a night
The next day even though Ron wasn't feeling that well we took a nice drive to the little town of Seward which is what one would think of as a quintessential type of small Alaskan town, it's also where some of the cruise ships dock so we were hoping for a good day exploring some more of Alaska.
For the first time since we arrived the sun was out and it was partly cloudy with a temperature in the low sixties so things seemed perfect for a good day out on the road
The Seward Highway is a National Scenic Byway and a really spectacular 127 mile drive
that runs through the scenic Kenai Peninsula and Turnagain Arm, for which it was designated an All-American Road by the U.S. Department of Transportation.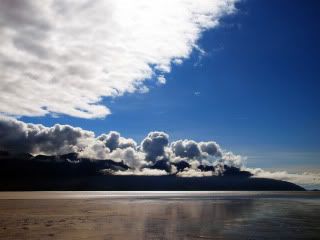 Driving along the waters edge once we got passed Anchorage the highway travels along a huge bay that is quite beautiful as the tide comes in and out three times a day we were told
Further along we passed this small lake and meadow with lot's of water lily pads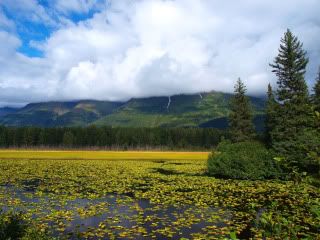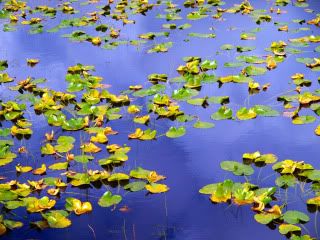 Here's one of the many lakes we passed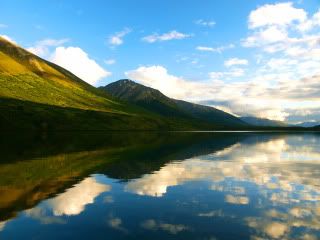 As we drove into Seward you could see one of the cruise ships that was docked in the port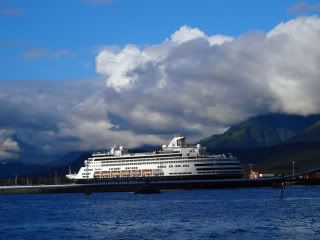 Seward also has the seventh most lucrative fisheries port in the United States
We drove down the main street looking for the Showcase lounge that one of the band members recommended to us as a great place to eat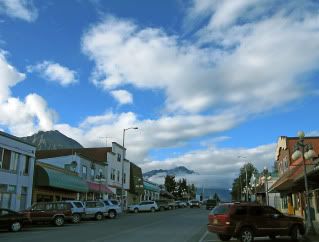 Seward being a very small town we found the lounge quite quickly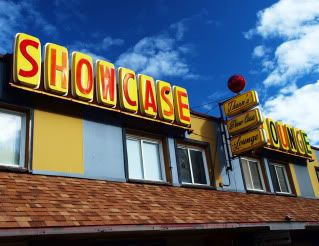 Thorn's Showcase Lounge is the best place to get a cocktail and meal in Seward, and for us this bar was the one place we got a great meal the whole time we were in Alaska............ It's a real cool lounge with it's 70's style button leather chairs and booths while your surrounded by the largest Jim Beam novelty liquor bottle collections in the world (over 1,500 bottles valued at a million dollars) and what you see on the walls is just a small part of the over all collection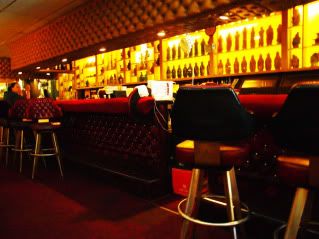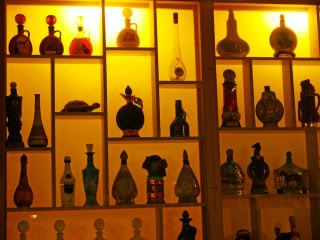 Having some amazing Alaskan Halibut and steak Ron and I were pretty happy to be dining in this joint
When we stepped outside after our meal our waitress and her girlfriend were having a smoke outside and we asked about an old church we had also heard about that was converted into a coffee house with great deserts, well it seems our waitresses girlfriend was the one who worked there and she being the only one working was on her break for the next few hours and the place was closed.
They were kind enough though to tell us where to find the place and also where Ron and I could pick some wild raspberry's that were growing in an alley by the church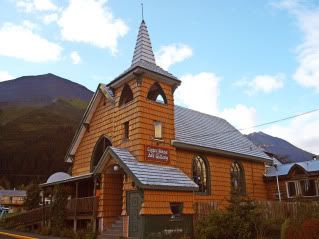 And these wild raspberry's were delicious!!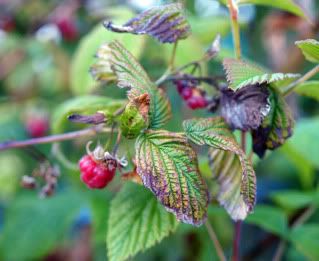 Heading back to the hotel along the Seward Highway we stopped at a few places that had some vintage signs
Like this old bar sign with the girl in a martini glass,
Then we happened upon one of the more unique spots I encountered in Alaska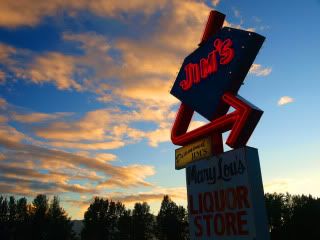 It's rare to find some great vintage neon signs in Alaska but this joint has a really good one...... now this place has been around since 1902 and who knows what kind of incarnations it's gone through but as of today it's run by a gal named Mary Lou whose been there since the 1950's
It's a small liquor store in a log cabin and besides some snacks and booze Mary Lou sells T-Shirts, Panties and what she calls hardcore Alaskan gifts........ there are a whole bunch of St. Pauli Girl posters tacked up on the outside of the place and funny enough the model on the poster kinda looked like what Mary Lou did back in the day (she was kind enough to show us her 1950's glamor photos)Ron and I both got one of her very cool t-shirts and skipped on the panties
Mary Lou's log cabin liquor store
And this motel and biker bar was right next door
Continuing our journey back to Palmer the sun was finally starting to set
I saw a whole bunch of cars stopping and people running to the side of the road where the water is so I stopped too and watched a few pods of Beluga whales come into the bay on the evening tide........ that was really cool to see and just about the only wildlife we saw in Alaska except for the one moose that was trotting on the freeway
Funny enough that area was called Beluga bay ....... and it was quite beautiful as the sun set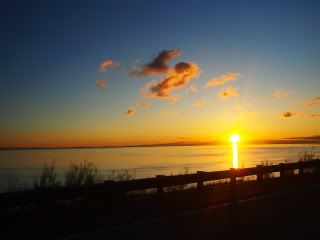 By the time we arrived back at the hotel Ron was feeling quite poorly so he went straight to bed while I decided to go check out the carny rides at the State fair a mile up the road.
Like most of us I love the magical atmosphere of a carnival at night, the sights and sounds along with the flash and glitter of the various colors of bulb and neon lights makes for a wonderful display, one that always evokes moments of when we were kids and that rush of excitement that the carnival experience leaves us with an indelible memory of that place and time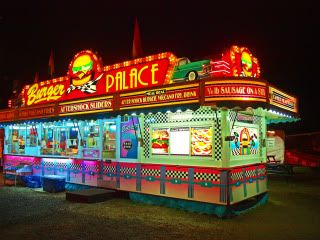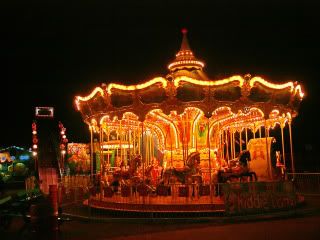 The next day Ron stayed at the hotel till checkout trying to get a bit better
and we left that afternoon to catch our flights back home.
We had some time to kill so we walked around the old section of downtown Anchorage and checked out some of the local shops and had a late lunch
The great art deco 4th Avenue Theatre built in 1941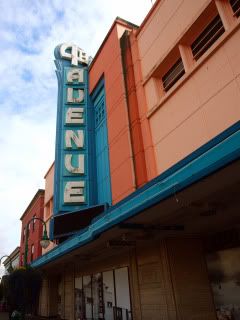 And the Alaskan visitors bureau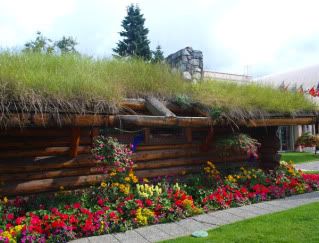 Ron and I got to the airport and waited for our prospective flights (his was 7:30pm and mine 12:30am) so after an hour or so Ron said his goodbyes and headed off to Atlanta, Georgia while I stayed and slowly watched the sun set in the western skyline
happy to be going home and having a few days to get ready for my next motorcycle trip to Benton Hot Springs near Mono Lake CA.
Ahhhhhh life is good.......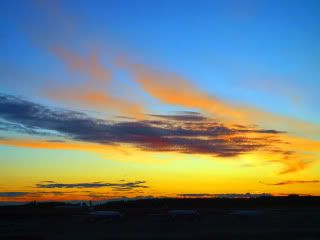 ~M