I was trying to figure out what I wanted to do for the Memorial day weekend, It would be a nice four day holiday weekend and the weather was supposed to be quite nice.
I was thinking I would stick around and catch a local horse show and maybe ride my bike somewhere when I got a call from one of my best friends Barry Weiss.
Seems the old Paso Robles Hot Rod Show which had moved to the city of Santa Maria was going to be this weekend and Barry said he had a room for the car show and wouldn't be staying there Friday night so I was welcome to share it with our good friend Joe Pro who was flying in from Boston to help drive Barry's 1947 Cadillac Led Sled and hang out for the weekend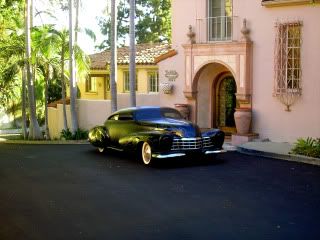 This was too sweet an offer to pass up on......a little money for gas and a few meals.....Looked like it was going to be my kind of low budget holiday
I figured a few days off for the horses wouldn't hurt them, although I knew they would miss all the carrots that seemed to come their way when I'm around.
Barry said meet Joe and him at his house around noon and we would all leave together.
Now Barry is a night owl in every sense of the word and by now I know twelve means two, so at two I gave him a call and sure enough they we're just walking out the door
lol.....Well I had already decided to ride by myself anyway and take some pictures so I just said I'd meet them up along the highway or in Santa Maria and that was cool with Barry
So it was just going to be me riding solo, and that's not a bad thing
I don't mind being alone with my thoughts and memories, they can criss cross and play re-runs of my various life moments stored in this brain of mine, the flashes of this and that at eighty miles an hour is a calming yet intense feeling as you weave your way in and out of traffic.
The direct route to Santa Maria is the 101 highway that runs north and south over a great stretch of California, sometimes following along side the deep blue of the Pacific and then going inland a bit where the rolling hills and various farms make for a nice scenic view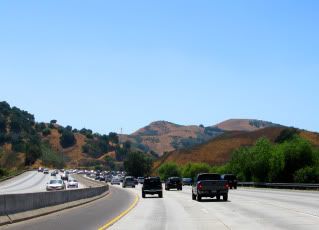 Heading north with the traffic I rode pretty hard till I got almost to the little town of Buellton, for many years I've passed this old abandoned dining car restaurant that sits along the original 101 highway and I've always wanted to take pictures of it. I pulled off the main highway and stopped to take a few pic's and check it out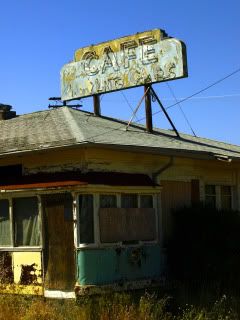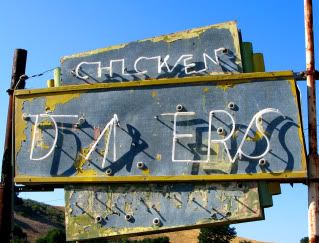 The place has a interesting bit of history and if any of you are curious
here is a great link explaining all about it
Cafe Dining Cars
Fueling up in Buellton I continued on the last little stretch of my journey and this part of the 101 is quite pleasant and only thirty miles south of Santa Maria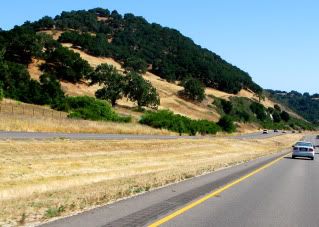 Santa Maria is a city in Santa Barbara County, on the Central Coast of California
The city was started in 1875 by four of the valley's prominent settlers and Agriculture, as always, continues to serve as one of the City's prime economic influences.
Located in the heart of Santa Maria, the Historic Santa Maria Inn has been a Central Coast landmark since 1917 and this is the center of the West Coast Kustoms car show on Friday night.
Here everyone seems to meet and hang out while scores of hot rods and custom cars cruse South Broadway in front of the hotel, parking my scooter I finally met up with Barry and Joe in the hotel's front parking lot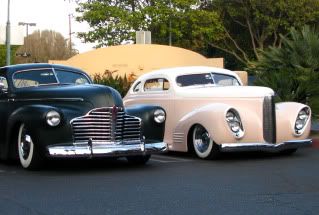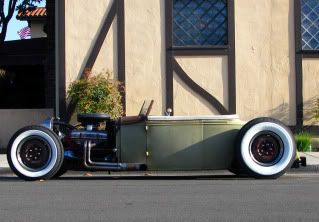 I also ran into our friend Steve Werthehimer owner of the Continental Club in Austin Texas, a great guy and one of the coolest kat's your ever likely to meet.
(btw.....he put's on probably the best Hot Rod and custom car show in the country)
Check out the link here for the car show
Lone Star Roundup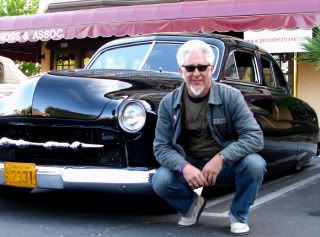 After hanging out and having a good time looking at all the great cars I decided to get back on the bike and see if I could find any vintage signs, And Santa Maria has some cool ones
Like this one for Bill's Hamburgers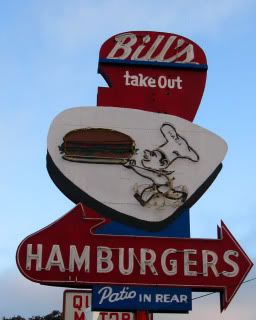 Or this old Ghost neon sign for the Valley Motel
Or this old Vacuum formed sign still advertising those old RCA color TV's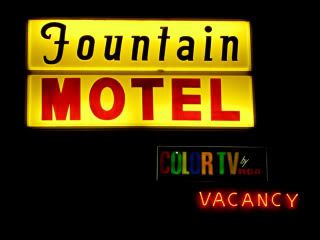 Catching a late meal with Joe at the local iHop, we both went right to sleep after the long day and it was a good start to the Memorial day weekend as far as I was concerned
The next morning we got up and headed over to the fairgrounds (where the West Coast Kustoms car show is held) with Barry's Caddy to find a spot with the hundreds of other cars and trucks that would be on display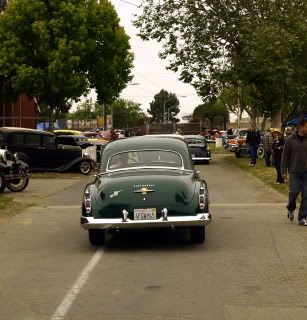 Joe found a nice spot out on the large grass field for the Caddy and we decided to take a look around and check out some of the other amazing vehicles that were entered for this show that West Coast Kustoms has been putting on for twenty eight years now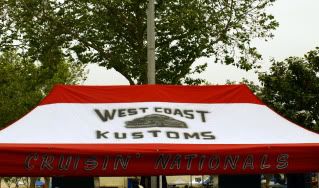 The nice thing about arriving fairly early is that you can take some great photos without people getting in the frame, so that's what I proceeded to do
Here are some of my favorite pic's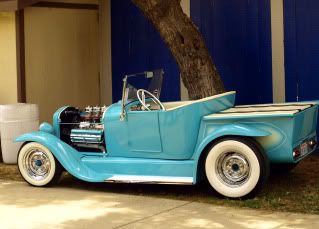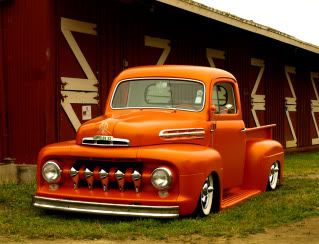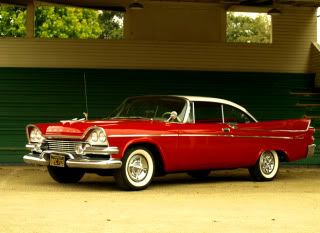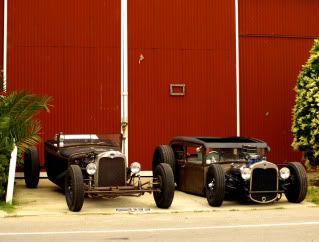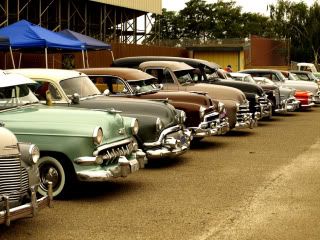 The really cool thing about Rat Rods and customs are the little unique things that someone fabricates or designs, to me the cars are individual works of art and there are so many variations of this art.....see for the most part Kustoms are not restored or perfect display's of the original, they have been modified to varying degrees to make that vehicle special and like no other...... I Love that, and I never cease to be amazed at the creativity one can see at a show like this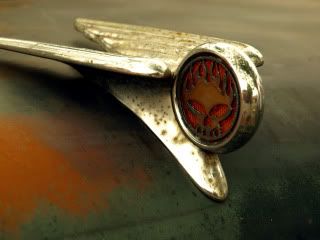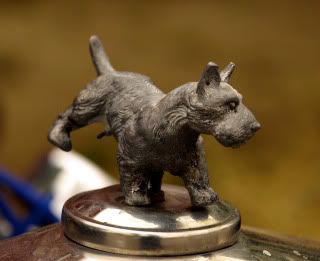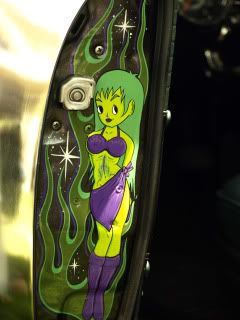 Sometimes it's just some funny thing someone adds to the ride
like this chicken
Or some art work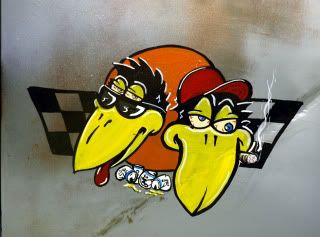 Or this nasty fat rat
Sometimes it's just the odd thing you see that amuses you,
like this sign
And you can enjoy all kinds of things at the show, like first rate Rockabilly bands
entertaining and putting you in the mood while you eat some taco's (my favorite food vendor) or a maybe watching someone else stuff a big fat sausage into their pie hole...... oh ya daddy!....... it's certainly a slice of Americana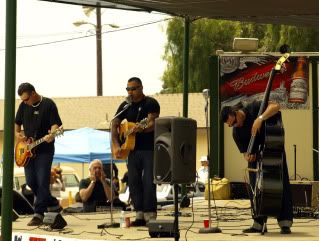 Yes, it's a menagerie of all kinds of things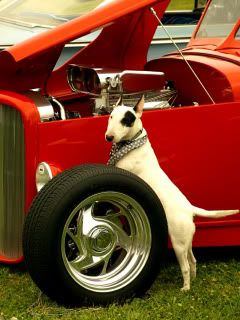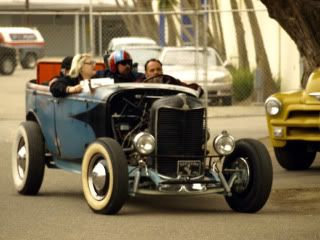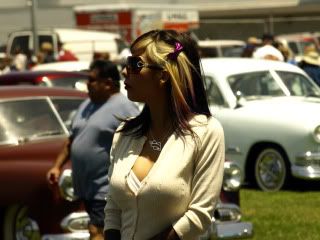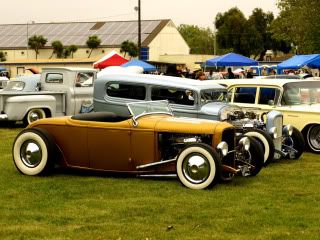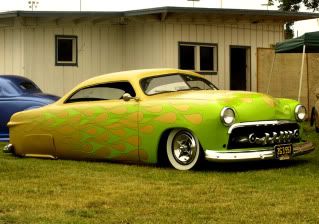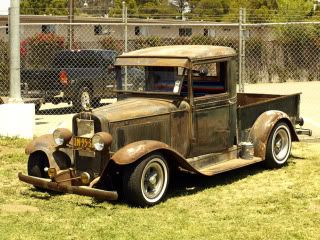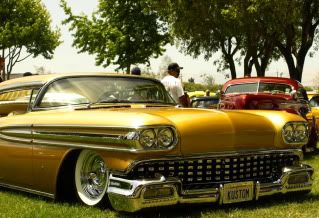 A drink with friends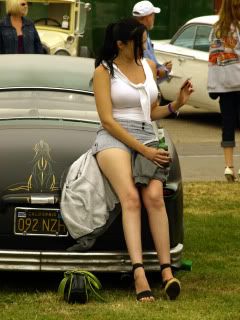 A pinstriper working on a Hot Rod
or some art etched in glass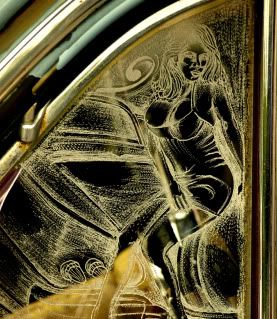 Yep, certainly a lot to see at the show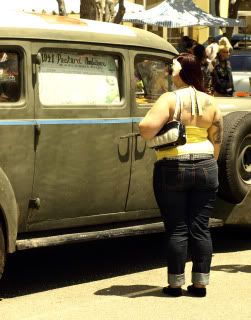 Well It was getting time for me to get going towards home, so I said my goodbye's took a parting shot and hit the road again
As I headed out of town I stopped at the local cemetery, and even though that it's a nice long weekend and all the underlying theme is Memorial Day and the sacrifice made by our service men and women over the years.....and if you really think about it for a moment you realize that nothing in this life is free.....and yes many gave with everything they had and all that they were ever gonna have
It's always a good thing to ponder and pay your respects I think
Count your blessings is what my dad used to say........
I watched this crow caw on top of this headstone for awhile wondering if it was an omen and all these dark thoughts arose inside my mind
Well after a few moments of that I said to myself omen or not you better get your ass on the road
So I hit the 101 southbound flying by the vineyards and gentle rolling hills alone again with my thoughts and memories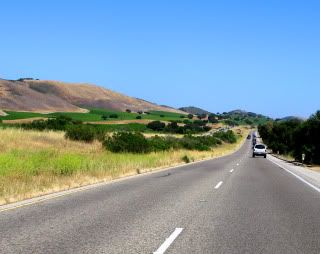 Stopping in the old west town of Los Alamos to fuel up again I walked around the town for a bit and took a few more photos
Here's the Union Hotel built in 1880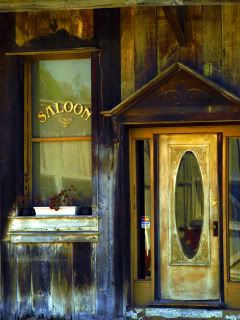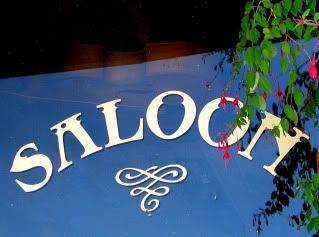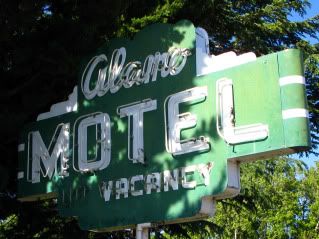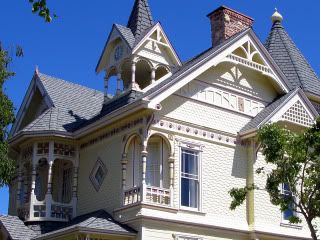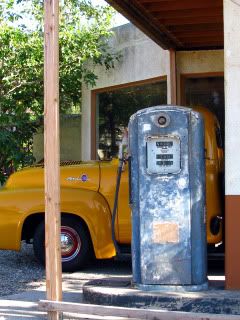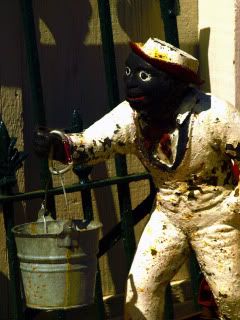 Well It was starting to get late in the day and I wanted to catch the Laker basketball game as they were playing in the western conference finals so I headed down to Ventura to make a bar stop and watch a little bit of it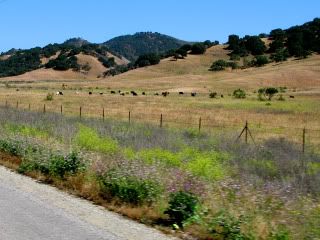 As I rode I stopped here and there and took some pic's of things along the way
Like these grazing horses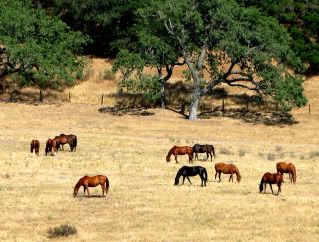 Or this cool old neon motel sign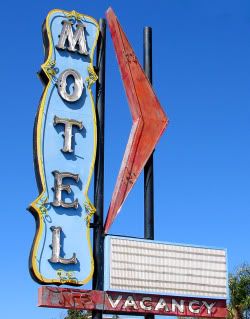 Or the blue pacific ocean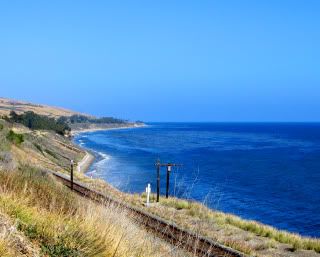 As I arrived in Ventura I needed to fill that hole in my stomach so I stopped at Tony's (best in Ventura) and got a couple slices of pie, sitting on the bench I shot this reflection of my Harley in the window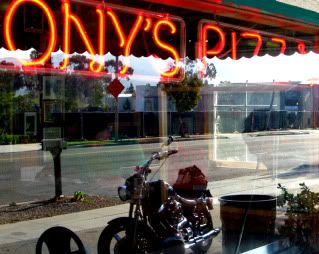 After my meal I headed downtown and parked my bike next to this cool rat bobber and walked across the street to the Star Lounge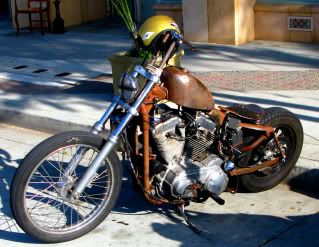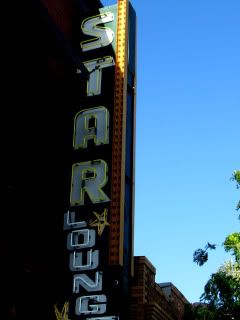 Ventura is a great place to visit if any of you that read this and have never been to this lovely seaside city, a lot of great things to see and do and of course the beaches are beautiful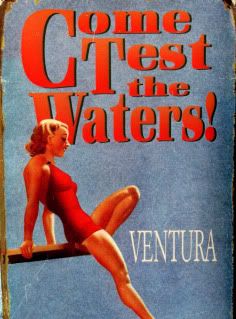 After watching the first quarter of the game I decided to get back on the highway heading south towards LA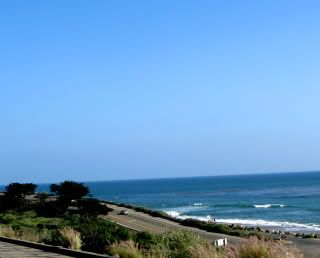 Dropping into Westlake I stopped at Jack's restaurant and bar got me a nice baked apple with ice cream and a coffee, settled in at the bar with the other Laker fans and watched our team pull off a gritty win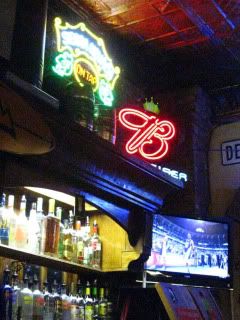 I rode the rest of the way home in no time it seemed and my dogs were happy to see me and get a late dinner, as I reflected on the day I felt a inner sense of satisfaction knowing that I squeezed just about every moment I could as the hours went by.......It's after days like this that your bed becomes your best friend as you fall into that dimension of rest and dreams.
On Sunday I got up and headed out to the barn.
I picked up a big bag of fresh carrots and turned the horses out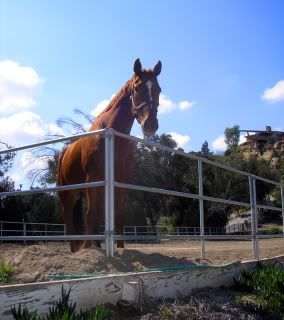 After coming home from the barn I just chilled out and worked on my pictures.
Monday being Memorial day and a holiday, I decided that Ventura looked so good that I'd ride back out there and take some more photos of some of the cool signs that I had seen on Saturday
The first stop was the giant Santa Claus in Oxnard
And next was the old abandoned Wagon Wheel Motel also in Oxnard sitting along the 101 highway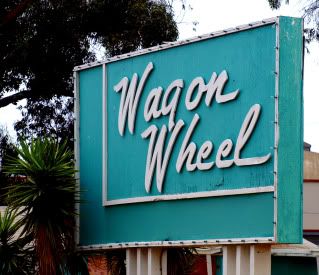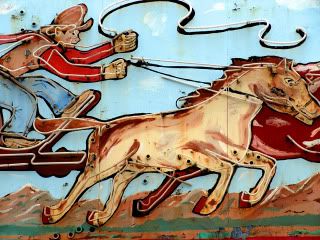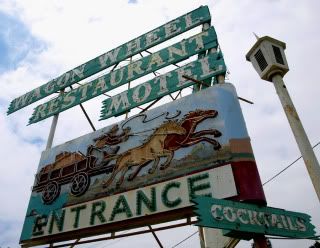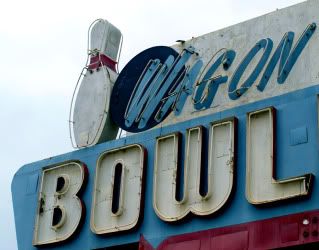 This great landmark was slated to be torn down and right now it's in limbo while the powers that be decided what to do with it, it was a very cool motor motel in the 50's,60's & 70's
Wagon Wheel Motel
Next stop was the Ventura Harbor to check out some boats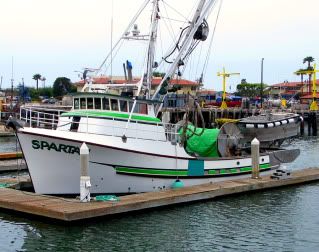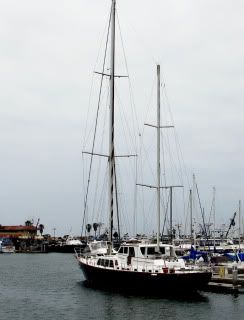 Moving on I arrived In Ventura which is the next city north of Oxnard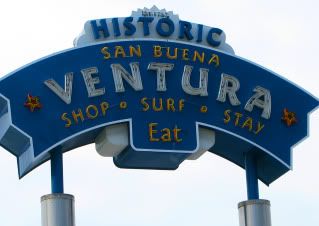 I rode all around Ventura shooting some cool vintage signs and other things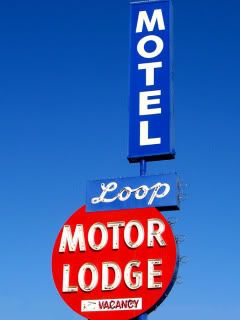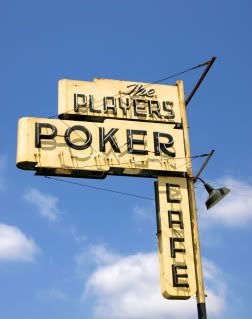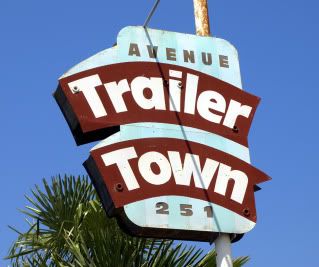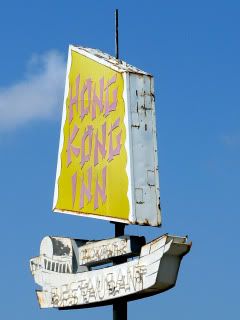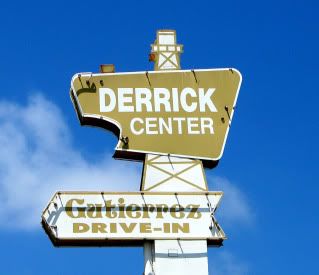 Leaving Ventura I headed East On Highway 126 to the city of Ojai and continuing along highway 150 to the city of Santa Paula which is another California agriculture town, Here is the the old MUPU Citrus Building loading dock next to the railroad tracks where a lot of the local fruit was shipped
Well it had been another good day riding along the highway capturing things that were here today but you never know if they'll be there tomorrow
Another great weekend......and yes some day's you can feel like a lucky devil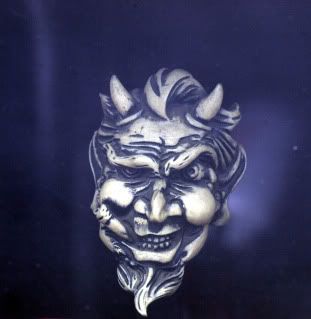 ~M